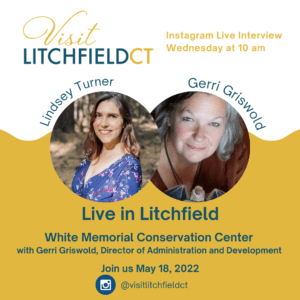 If you love our new Visit Litchfield CT Instagram Live series or haven't discovered it yet, there are lots of great conversations coming up hosted by Lindsey Turner, Vice Chair of the town's Economic Development Commission.
Each session begins at 10 a.m. To watch, simply follow @VisitLitchfieldCT on Instagram. When a conversation is starting, our profile will appear at the top of your feed with a ring around it and the word "Live." Tap or click to view the broadcast on either the Instagram app or on Instagram.com. There's a chat feature so guests can participate with questions or comments.
Here's the lineup of upcoming guests and topics:
Wednesday, May 18
Gerri Griswold, Director of Administration and Development, White Memorial Conservation Center
Topic: A general introduction to White Memorial and a preview of upcoming events, including Bobbing for Bobolinks at Apple Hill and Topsmead, led by Griswold, and a virtual program, The Volcanic Explosion at Tonga, January 15, 2022 with Tom Alena. Both are Saturday, May 21.
Wednesday, May 25
Dean Birdsall, Stewardship Chairman, Litchfield Land Trust.
Topic: Litchfield Land Trust history, mission, and how to enjoy the trails, as well as a discussion of things planned for Connecticut Trail Days June 4 and 5.
Wednesday, June 1
Colleen Stradtman, President of the Board, Friends of Topsmead State Forest
Topic: A general introduction to Topsmead and a preview of a Screening of "Topsmead: One Lady's Legacy" at Bantam Cinema & Arts Center June 5 from 6-7:15 p.m.
Wednesday, June 8
Topic: Colleen Kinkade talking about this year's Litchfield Hills Road Race, followed by Economic Development Commission member Michelle Murelli of Art Tripping previewing the first-ever Litchfield Makers Market to be held on the Saturday of Road Race Weekend.
Past Broadcasts: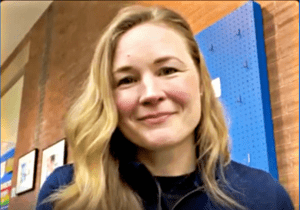 If you missed our two conversations with Kate Zullo, Head of Education for the Litchfield Historical Society, you can still watch them by clicking on the dates below.
On April 27 we covered this season's opening weekend and the new exhibits, "To Certain Western Lands," introducing visitors to Connecticut's Western Reserve, now in present day Ohio, and "Antiquarian to Accredited: A Look Inside the Historical Society."
On May 11 the topic was the historical society's Tapping Reeve House and Litchfield Law School, the first law school in the nation.
A third conversation focusing on the walking tours for children and families is also planned.
Follow us @VisitLitchfieldCT on Instagram, and on Facebook, as well as heading to the VisitLitchfieldCT website to sign up for our email newsletters at the bottom of the home page. Feedback is encouraged by leaving comments on our social accounts or emailing [email protected].