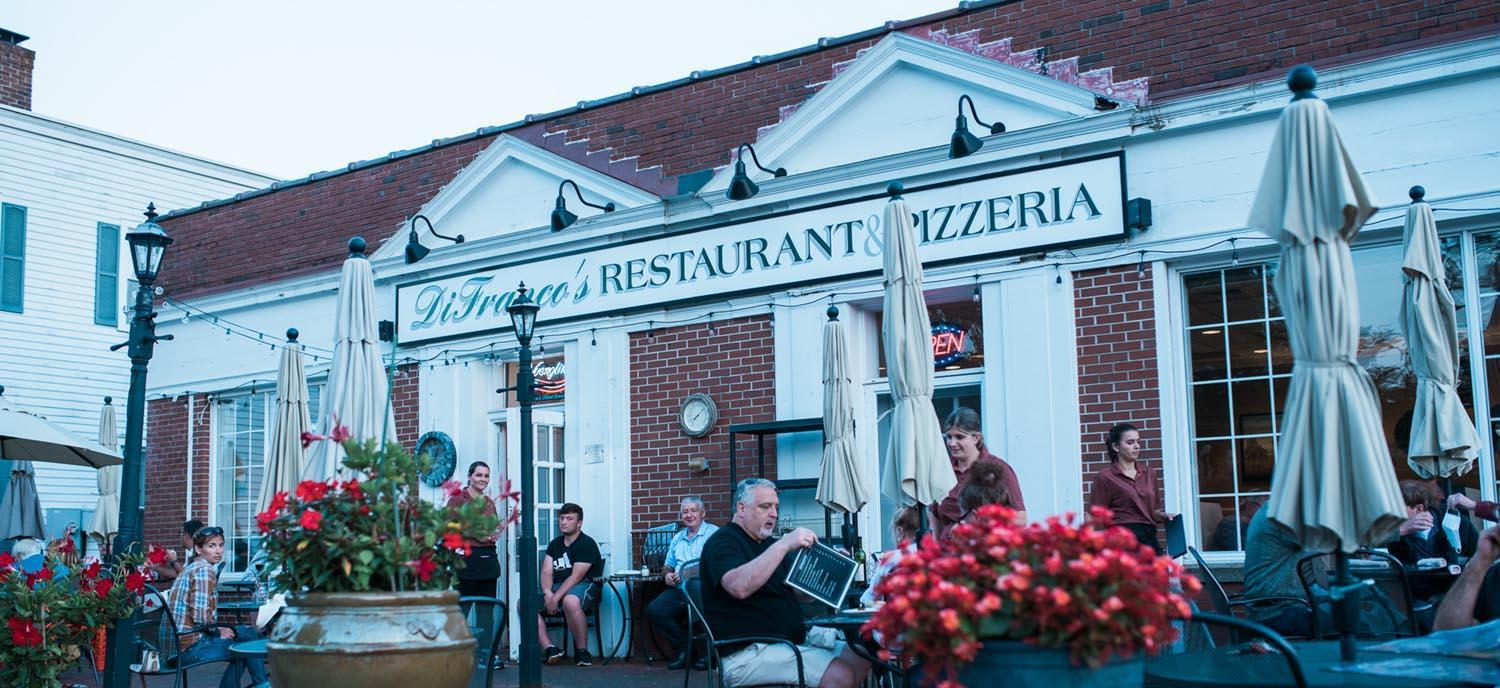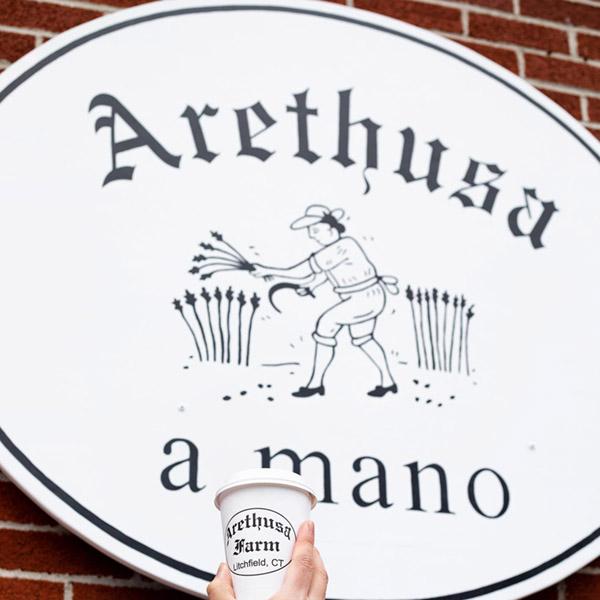 Arethusa a mano
822 Bantam Rd. | 860-567-5722
Arethusa a mano in Bantam is part of  the Arethusa Farm Dairy empire, which includes the dairy farm on Route 63, as well as the creamery and retail store in the former Bantam firehouse, the acclaimed Arethusa al tavolo restaurant next door, and the nearby and the cheese-making operation. A mano is known for its Stumptown Coffee Roasters coffee, lattes and cappuccinos, as well as homemade bagels, the gleaming case filled with gorgeous pastries and donuts, breakfast sandwiches, and lunch options. *Outdoor dining.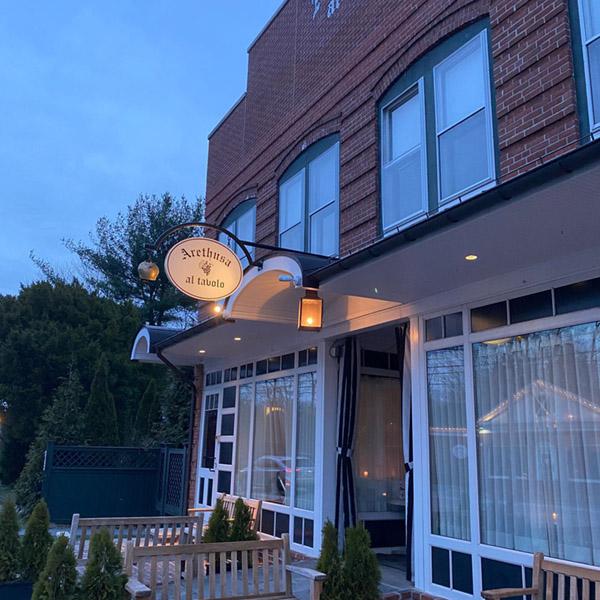 Arethusa al tavolo
828 Bantam Rd. | 860-567-0043
Executive Chef Dan Magill oversees this extension of Arethusa Farm, a seed-to-table restaurant considered one of the top dining experiences in Connecticut. There's a sample menu on the website, but it changes and the specials are phenomenal, like this one from an inspired late spring menu: Scottish salmon brushed with ramp soubise, morels, English peas, asparagus, and rye crumbs. *Outdoor dining.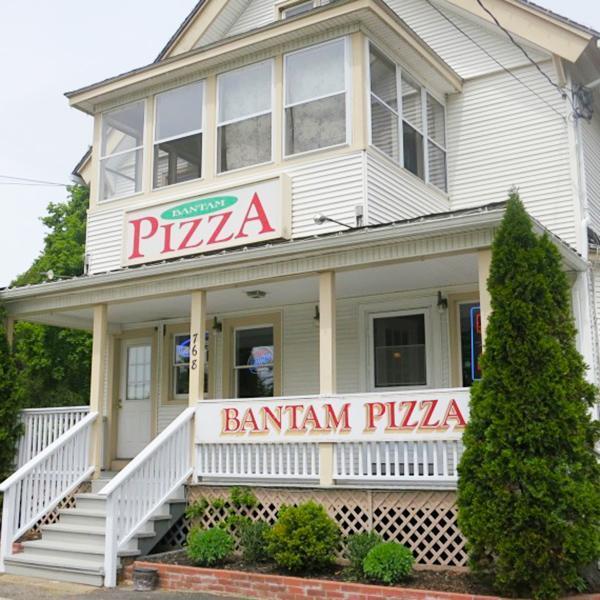 Bantam Pizza & Restaurant
768 Bantam Rd. | 860-567-3357
For more than 20 years, Bantam Pizza has been serving hot oven grinders, salads, chicken wings, spaghetti, pizzas, of course, and more (lasagna, manicotti, ravioli, stuffed eggplant), in the heart of Bantam.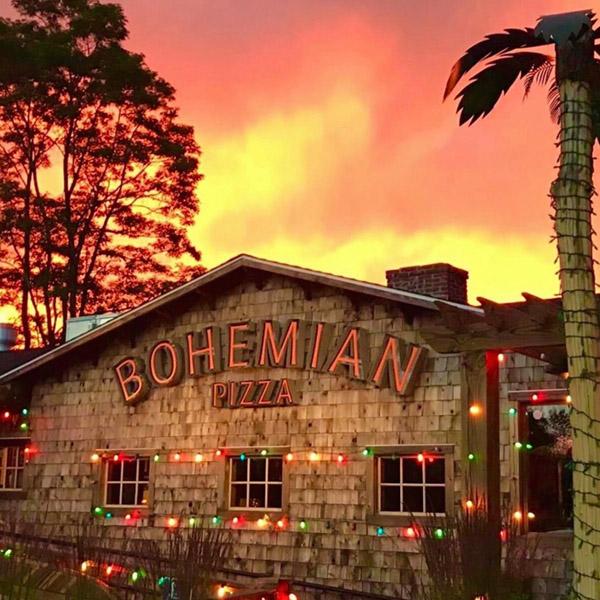 Bohemian Pizza and Tacos
324 Bantam Rd. | 860-567-3980
Fried goat cheese balls were a recent special—so this is more than an average pizza place. Bohemian is festively and uniquely decorated to suit its name, and the popular spot has a bit of a cult following for its pizzas—though the menu goes far beyond, from "dips and apps" that include mozzarella sticks and wings to salads, tacos and quesadillas, as well as dessert. *Outdoor dining.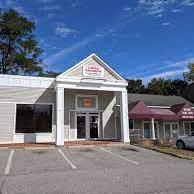 China Rainbow
33 Village Green Dr. | 860-567-8777
From wonton, egg drop and sweet & sour soup to egg rolls, fried rice, chow mein, lo mein, egg foo young, chicken Szechwan, and beef Hunan style, China Rainbow has you covered for classic Chinese cuisine.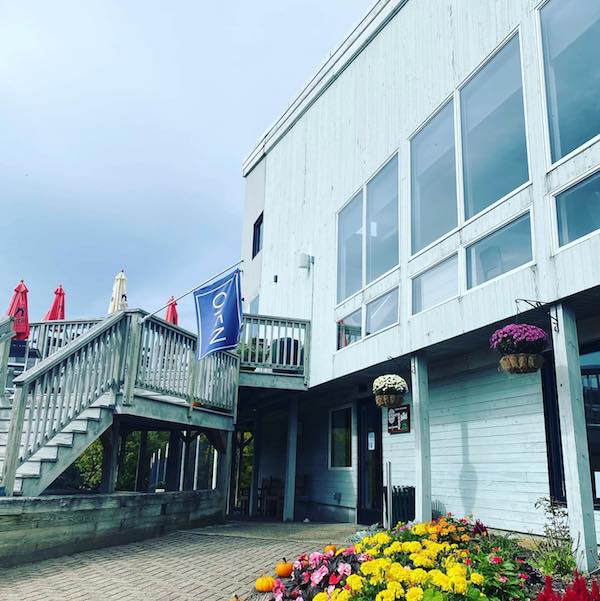 Clubhouse Provisions
263 Milton Rd. | 860-567-9977
Clubhouse Provisions opened in autumn 2022 at Stonybrook Golf and serves Modern American cuisine blended with classic golf fare. Cocktails, beer, wine are also served in the modern clubhouse or on the deck overlooking the golf course. Open seasonally.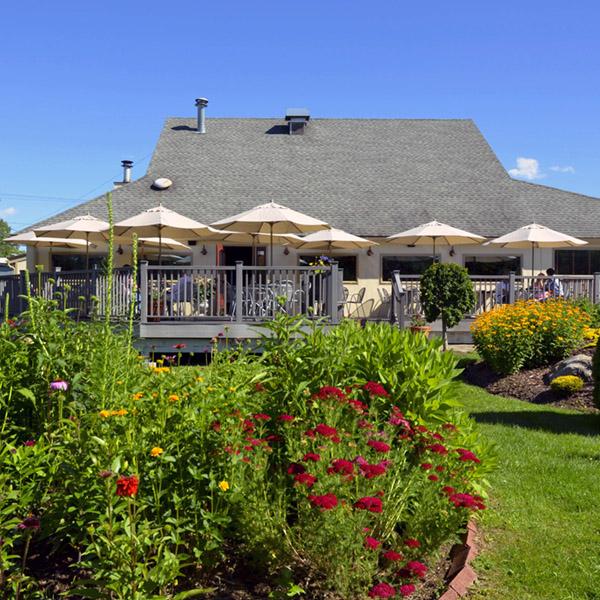 Da Capo
625 Torrington Rd. | 860-482-6246
A trattoria-style Italian restaurant on the Torrington side of Litchfield, Da Capo serves contemporary interpretations of Italian classics, as well as New York-style thin crust pizza, in a casual atmosphere with tin ceilings, exposed brick and soft lighting. *Outdoor dining.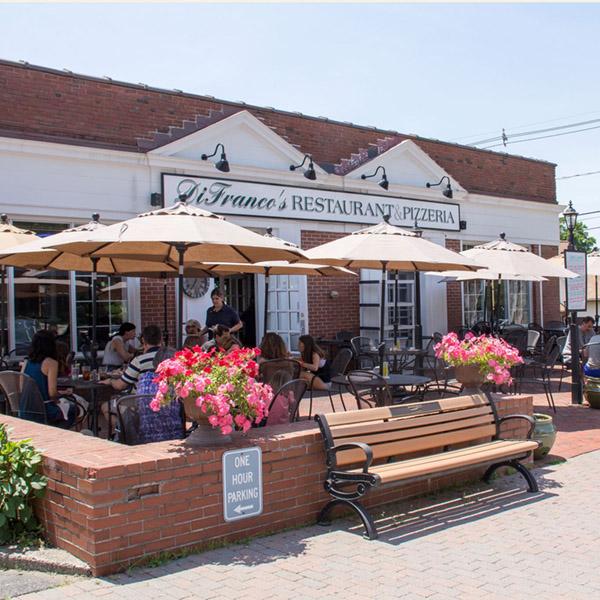 DiFranco's Restaurant and Pizzeria
51 West St. | 860-361-6861
Across from the Green in a spot that emphasizes the outdoor dining, DiFranco's is a family-friendly Italian restaurant with a menu that has everything you want: wings and fried calamari, lots of salads, pizzas, seafood, burgers and steaks, chicken Parm, calzones, and even gluten free pasta. *Outdoor dining.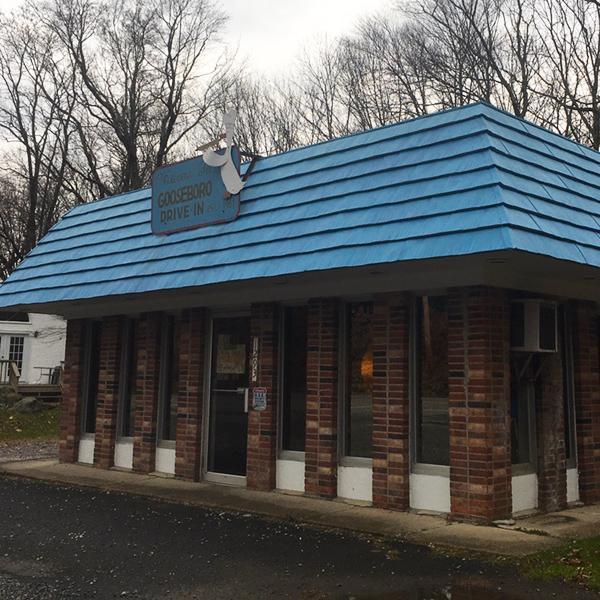 Gooseboro Drive-In
1293 Bantam Rd. | 860-567-9356
Located along Route 202 southwest of Bantam on the way to Mount Tom Pond, Gooseboro Drive-In is a popular roadside spot for burgers, hot dogs, onion rings & fries, and ice cream + Sundaes that's been around since 1961! In the summer of 2021, Gooseboro won the first annual Dog Days of Summer Hot Dog Contest … and was named Top Dog!
*Outdoor dining.
Hometown Pizza
250 West St. | 860-567-0800
Lots of specialty pizzas, plus appetizers and salads, hot and cold grinders, pasta, seafood over pasta, baked pasta, chicken entrees, veal entrees, baked seafood, steaks and chops, and a children's menu.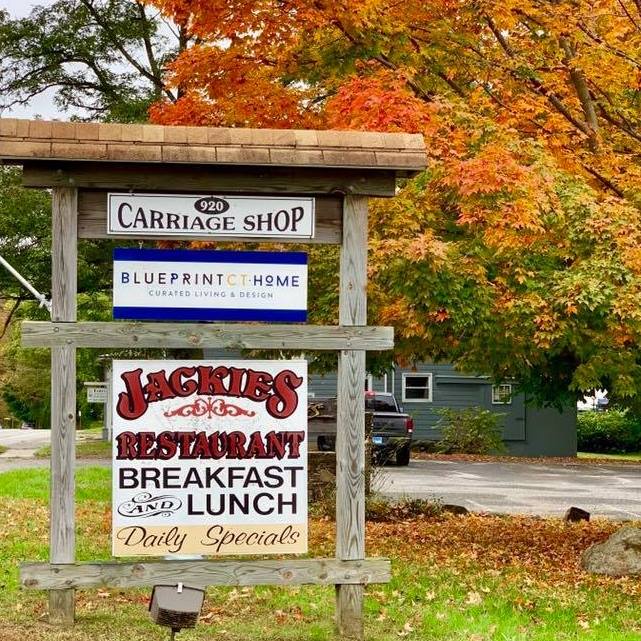 Jackie's Restaurant
920 Bantam Rd. | 860-567-0770
If you like breakfast dishes like walnut-crusted French toast topped with fresh strawberries, you'll love Jackie's, a family restaurant that serves breakfast and lunch every day except Wednesday. All the breakfast classics are on the menu, as well as wraps and skillets, and Jackie's is also open for dinner Friday and Saturday evening.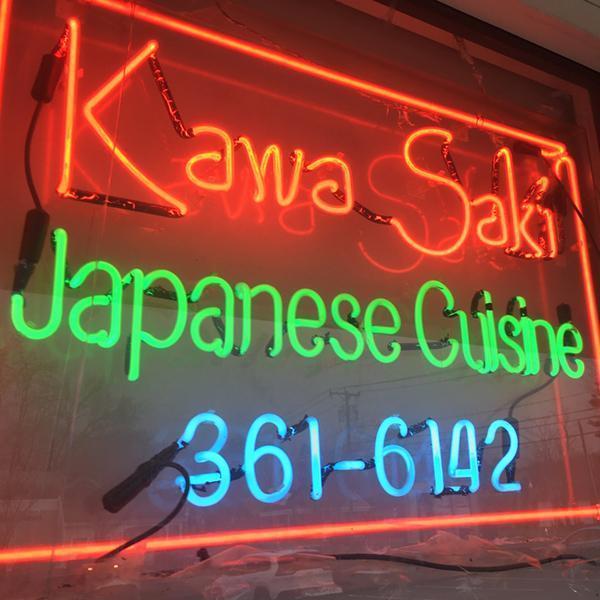 Kawasaki Japanese Restaurant
8 Village Green Dr | 860-361-6142
Tucked next to Litchfield Hills Wine Market, KawaSaki is known for its sushi, including appetizers, a la carte menu and a sushi bar, as well as lunch and dinner boxes, a hibachi menu, a kid's menu, and entrees like chicken, beef, shrimp, or seafood teriyaki and more—and don't forget to order noodles!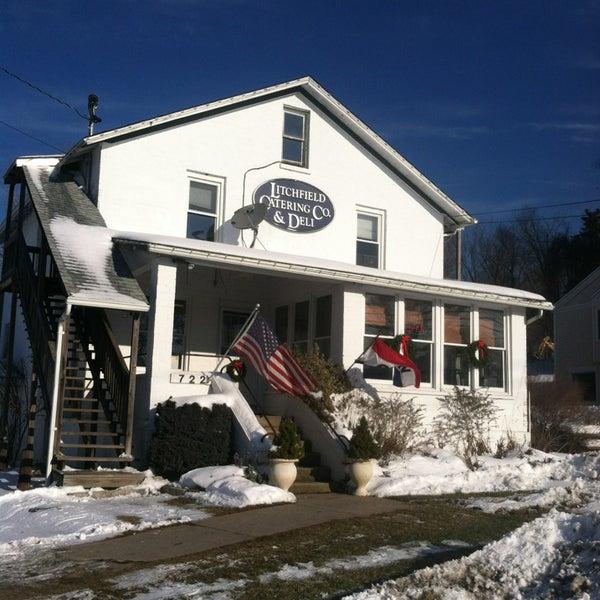 Litchfield Catering & Deli
722 Bantam Rd. | 860-567-9878
Turkey club, corned beef Reuben, chicken salad, breakfast sandwiches, soups—all your lunch favorites are here, as well as an extensive catering menu.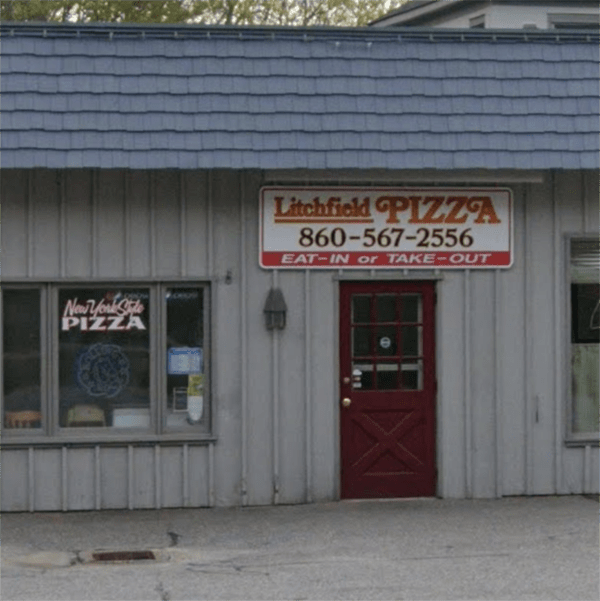 Litchfield Pizza
491 Bantam Rd. | 860-567-2556
A classic pizza place that also offers appetizers, soups, and pasta dishes, including eggplant rollatini with pasta, gnocchi with Bolognese sauce, and cheese tortellini a la vodka with broccoli. Specialty pies like buffalo chicken with blue cheese have a local following.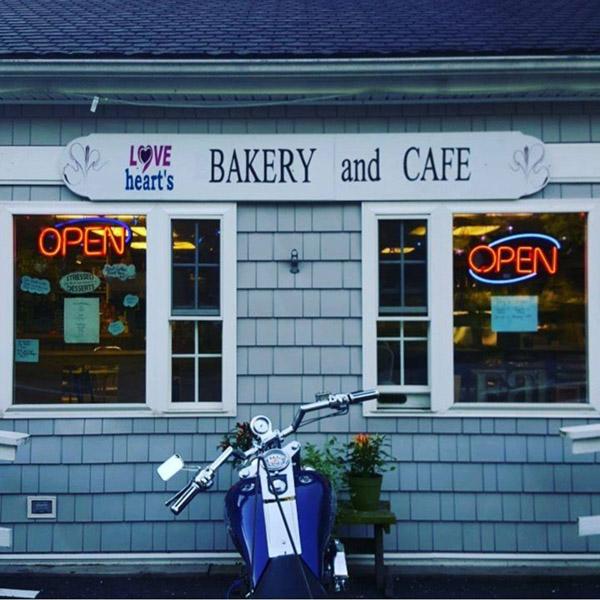 Love Hearts Bakery
583 Bantam Rd. | 860-361-6526
The homemade English muffins returned last fall at Love Hearts Bakery, located in The Cove in between Litchfield Center and Bantam. It's a favorite spot for everything made from scratch that you love to pair with coffee, tea, or chai lattes—like donuts, muffins, coffee cake, cakes, bagels, croissants … With soups sandwiches and more, Love Hearts Bakery is also a popular lunch stop. *Outdoor dining.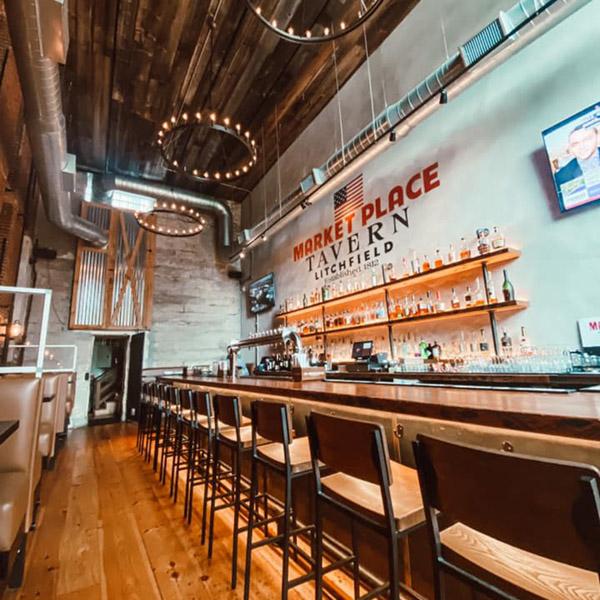 Marketplace Tavern in the Old Litchfield Jail
7 North St. | 860-361-9930
Marketplace may have the coolest location in Litchfield, making its home in the renovated former jail built to house prisoners in the War of 1812. In warm weather, guests favor the outdoor patio overlooking the Green, but the interior beckons, too, with its "clink chic."  There's a small but good craft beer menu to accompany the burgers and other classic tavern fare (fried calamari, nachos, onion soup, fish-and-chips, etc.), and specials kick it up a notch with dishes like spicy spaghetti with shrimp. *Outdoor dining.
Materia Ristorante
637 Bantam Rd. | 860-567-3326
Materia Ristorante offers fresh and seasonal Italian cuisine, distinctive wines and European hospitality. One of the newest restaurants in Litchfield, it's also a spot with a lot of positive buzz. Menu highlights include dishes like grilled squid, asparagus, squid ink and saffron sauce, Tagliatelle Al Ragu, risotto with gorgonzola dolce, Bosch pear, walnuts, milk-fed veal chop, pan fried, with crispy potato, and for dessert, tiramisu and panna cotta. *Outdoor dining.
Meraki
239 West St. | 860-361-9777
Meraki, down the hill from the Green, is a breakfast and lunch hotspot with coffee, teas, baked goods and everything else required in a good pitstop. Morning starts with muffins, scones, coffee cakes, breads, local egg sandwiches, breakfast burritos, a hash bowl, and more—and lunch features signature sandwiches, salads and lots more. There's outdoor seating tucked away in the back. *Outdoor dining.
Mockingbird Kitchen & Bar
810 Bantam Rd. | 860-361-6730
Chef and owner Samantha Tilley draws inspiration from the versatile-voiced Northern Mockingbird to create global culinary conversation anchored by the bounty of Tenth Acre Farm. The seasonal menu features sustainably fished and farmed ingredients. *Outdoor dining.
Ollie's Pizza
19 West St. | 860-361-9400
Ollie's has a sweet little spot across from the Green and next to the former courthouse. Sit in the window, order a craft beer, and watch the world walk by as you enjoy gourmet pizza—or sandwiches, wraps, burgers, grinders, and salads, as well as entrees that include spaghetti with meatballs and chicken Marsala.
Patty's Restaurant
499 Bantam Rd. | 860-567-3335
Classic diner-style breakfast and lunch—with a huge menu and hometown warmth—has been the specialty at Patty's since 1996. Plenty of space for private events, birthday parties, showers, business lunches, etc.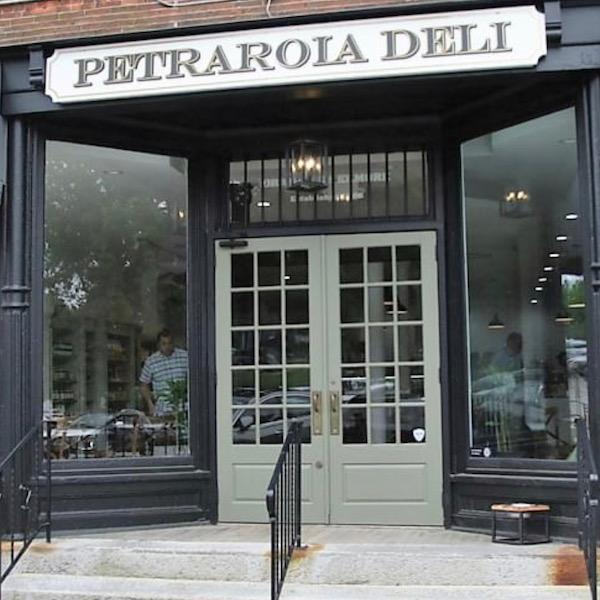 Petraroia Deli
36 West St. | 860-361-6006
Open as of June 1, Petraroia Deli serves Italian-American inspired cuisine with a menu extending from salads and sandwiches to hot foods, grab-and-go items, and prepared dinners to take home. Bread from The Bakehouse;  Krafted Brew Lab is the source for coffee and espresso. Grocery essentials, too.
Saltwater Grille/Salt 2.0
26 Commons Drive | 860-567-4900
A classic seafood restaurant with a casual vibe, Saltwater Grille has all the dishes you expect—from a raw bar to lobster tails—as well as burgers, steaks, tacos, mac-and-cheese and lots more. It's also known for its Happy Hour, and has a second incarnation, Salt 2.0, which offers a quick service concept featuring an everyday affordable, customizable menu. *Outdoor dining.
The Restaurant at Winvian Farm
155 Alain White Rd. (Morris) | 860-567-9600
Chef Chris Eddy makes sophisticated culinary magic at Winvian Farm, the Relais & Chateaux luxury inn that opens its restaurant to non-guests for dinner billed as "the ultimate fine dining experience." Chef Eddy literally has his own on-site farm from which to craft his farm-to-table seasonal menus. The expansive wine cellar features wines from 13 countries and 37 regions including biodynamic, sustainable and organic. We recommended the prix fixe dinner with wine pairings for the optimal Winvian experience.
The Ripe Tomato
392 Torrington Rd. | 860-567-8002
A deli with homemade soups, salads, and sandwiches, The Ripe Tomato at the top of the hill between Litchfield Center and the Torrington line is also a morning stop for coffee, muffins, and more—like the range of popular breakfast sandwiches.
The Village Restaurant
25 West St. | 860-567-8307
The Village is that hometown tavern that's been around and popular forever (seemingly) for the good food, good people, fine hospitality, and warm setting. It's the kind of place where you can have a craft beer at the bar or settle into a table (inside or out) for comfort food like meatloaf and mashed potatoes, rigatoni Bolognese, or chicken Parmesan—or slightly more adventurous fare like horseradish-crusted salmon. *Outdoor dining.
@thecorner
3 West St. | 860-567-8882
A true craft beer haven with a long and always-changing menu, @thecorner has versatile flair. It's front section is a coffeeshop café in the morning, a new ATC South St. taco and martini bar opened this fall next door, and the core restaurant packs in the fans with salads, burgers, risotto dishes, jerk chicken, a flatbread offering, wings, and lots of specials. *Outdoor dining.
Toast & Co.
18 Commons Drive | 860-567-0301
Toast & Co. is a very popular breakfast and lunch café with coffee, espresso drinks, teas, pastries, smoothies, milkshakes … and so much more, including dairy free, gluten free, vegan and keto options. In addition to breakfast sandwiches, Toast & Co. offers signature toasts (from avocado to PB & banana), salads, and lunch sandwiches. The pandemic brought an outdoor dining area with picnic tables between toast and the road, which remains popular. *Outdoor dining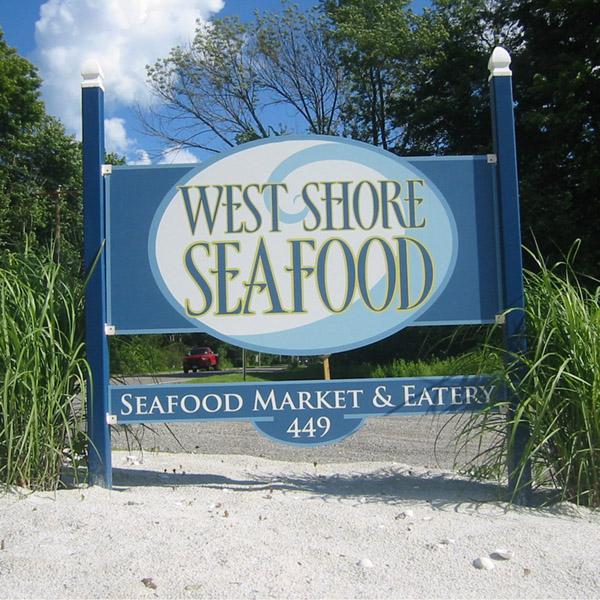 West Shore Seafood
449 Bantam Lake Rd. | 860-567-8000
Inspired by the seafood havens on Cape Cod, West Shore Seafood offers a classic roadside seafood experience across Route 209 from Bantam Lake; think of lobster dinners and friend clams and you get the idea. There's outdoor seating in the seasonal tent or at picnic tables in the garden (dogs welcome), and the full menu is also available for take-out. Adding to the appeal, there's also a fresh seafood market for those who want to do the cooking at home. *Outdoor dining.
West Street Grill
43 West St. | 860-567-3885
A longtime favorite of the successful and famous (yes, George Clooney did stroll in one evening with Bill Murray and filmmaker Wes Anderson) West Street Grill features inventive New American cuisine in a sophisticated setting where owner and host James O'Shea, an engaging Irishman, makes the dining experience unforgettable. *Outdoor dining.
Wood's Pit BBQ & Mexican Café
123 Bantam Lake Rd. | 860-567-9869
Across the side street from Bantam Cinema on Route 209, Wood's Pit is a haven for BBQ lovers, with staples like pulled pork, sliced beef brisket, BBQ chicken, and St. Louis-style pork ribs, and specials like pork belly burnt ends and a mac'n' cheese skillet with BBQ. Desserts tend toward classics like cheesecake, apple crisp, and blueberry/peach cobbler.
Zini's Restaurant
938 Bantam Rd. | 860-567-1613
Spaghetti carbonara, veal Parmesan, chicken Marsala, sausage, white beans and escarole—Zini's is a classic Italian restaurant located at the foot of the Bantam Design & Dining district.