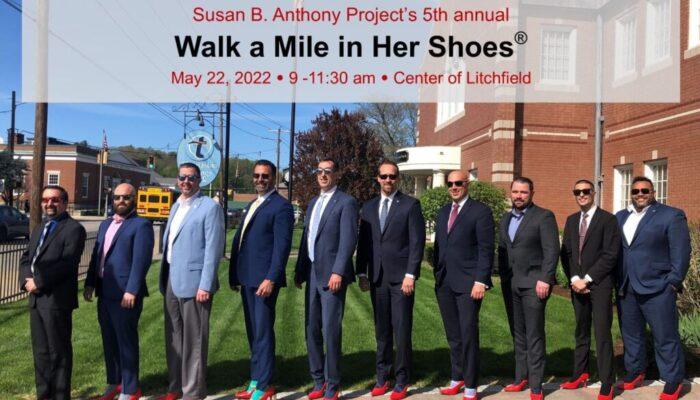 On the morning of May 22, Litchfield center and the Green will be bustling with more than 200 visitors—and approximately 100 of them will be men and boys walking a mile in red women's shoes.
The festivities are part of Walk a Mile in Her Shoes®, an international initiative in which men and boys walk a mile in red high-heeled shoes as part of efforts to end sexual and domestic violence, and in support of victims and survivors.
The Litchfield event is sponsored by the Torrington-based Susan B. Anthony Project (SBAP), the nonprofit organization named after the 19th century abolitionist, labor reform advocate, and champion for women's right to vote that provides crisis and support services for victims of domestic and sexual abuse.
SBAP also promotes safety, healing and growth for all survivors of domestic and sexual abuse, and advocates for the autonomy of women and the end of interpersonal violence. Among its services, SBAP offers emergency shelter, transitional housing and services, counseling, support groups, court and medical advocacy, child and teen advocacy, and community education.
"The day has such an amazing energy. It's really such a community builder," said Gina Devaux, Director of Development for the Susan B. Anthony Project. "People don't go out of their way to talk about these issues or learn about them unless they've touched the lives of a loved one. That's why the walk is so powerful. It brings the conversation to the forefront, and it has brought up conversations that never happened before. It's a catalyst on a lot of different levels."
As SBAP explains on the event page, Walk a Mile in Her Shoes® was created by men, and the walk and gives participants the opportunity to get communities talking about a difficult subject while increasing awareness of the problem, offering opportunities for healing, and demonstrating men's willingness to walk with women and children as allies, advocates and survivors.
And while local participants are encouraged to walk in red shoes, it's not a requirement. "You can walk in slippers if you want to," Devaux said. Those who want to embrace the iconic footwear may register at no cost and pick up a borrowed pair of red shoes at the event or any time prior to the event. Red shoe covers are also available.
The walk route begins and ends in the Litchfield center and participants walk on paved sidewalks. Spectators line the route, and there's even a red carpet at the end.
There are several ways to support the event. You can register to walk (at various levels), pledge a walker, make a donation, become a sponsor, order event merchandise, place an ad in the program book, volunteer to work the day of the event, or simply spread the word and come out to cheer on participants. Details are on the Walk website: https://sbaproject.org/walkamile/
SBAP's Walk a Mile in Her Shoes® event has been remote for the past two years because of COVID, and in honor of being live again in the fifth year a special after-party is planned in the Tapping Reeve Meadow, behind the Tapping Reeve House and Litchfield Law School on South Street.
The public is invited to the party, which will feature a food truck, The Tasty Yolk, a bar set up by Litchfield Distillery and music by local favorite Ian Campbell.
The event opens at 9 for check-in, getting shoes, warming up, and photo ops, and the actual walk starts at about 10:15. There will be foot massages for walkers after the walk, and things should wrap up around 11 and transition to the after-party, where awards will be presented.
West Street in the center of town will be blocked off during the event but open immediately afterward. (Feel free to email [email protected] if you want tips on where to park or how to easily navigate the center of town while the event is underway.)