Anyone who lives in Litchfield or loves to visit knows that parking in Litchfield center near the Green and the shops on West and South Streets can be a challenge. The same holds true for Bantam center.
What many don't know, or at least don't take advantage of, is the free and convenient municipal parking areas in both parts of town. At Visit Litchfield CT, we're fond of the town's many "hidden gems," and we consider these areas our hidden gems of parking. They're close to the action (within easy walking distance) but also under-utilized, which means you can almost always drive right into an open parking space.
Descriptions with map links for each are below, and then annotated visual maps with arrows pointing to the parking areas. We use these spaces all the time and marvel each time at how they make a visit stress free and more enjoyable.
In Litchfield Center
The "secret" municipal parking lot is behind the shops and restaurants on West Street. You can enter and exit between R. Derwin and Jeffrey Tillou Antiques. There's also access between Bosson Optical and The Village Restaurant, but these days that area is The Village's outdoor cafe for much of the year, so stick to the Derwin/Tillou access.
Across the Green and Route 202 (confusingly also West Street in the town center), there's a spacious parking lot behind Litchfield Town Hall (marked Litchfield Town Clerk on the map), where the spaces are up for grabs when municipal business is not in session, which covers most of the peak times for visitors, like weekends.
Finally, the "super secret" parking lot in Litchfield center is across Woodruff Lane from Litchfield Center School. The spaces are up for grabs whenever school isn't in session, which also happens to coincide with peak times for visiting. We love this lot because it's a very short walk to all the action and typically empty when the epicenter of lifestyle enrichment (the Green and West Street) seems to be overflowing with vehicles.
In Bantam Center
Most of the lifestyle amenities in Bantam have dedicated parking lots, but some of them are small and can be a challenge to navigate, or simply full. Just a short distance down Doyle Road, however, is the former Bantam School (now housing some municipal offices) and its ample parking. (We know from experience if you park here and walk, you discover more things that delight and have a more fulfilling visit.)
Litchfield Center Map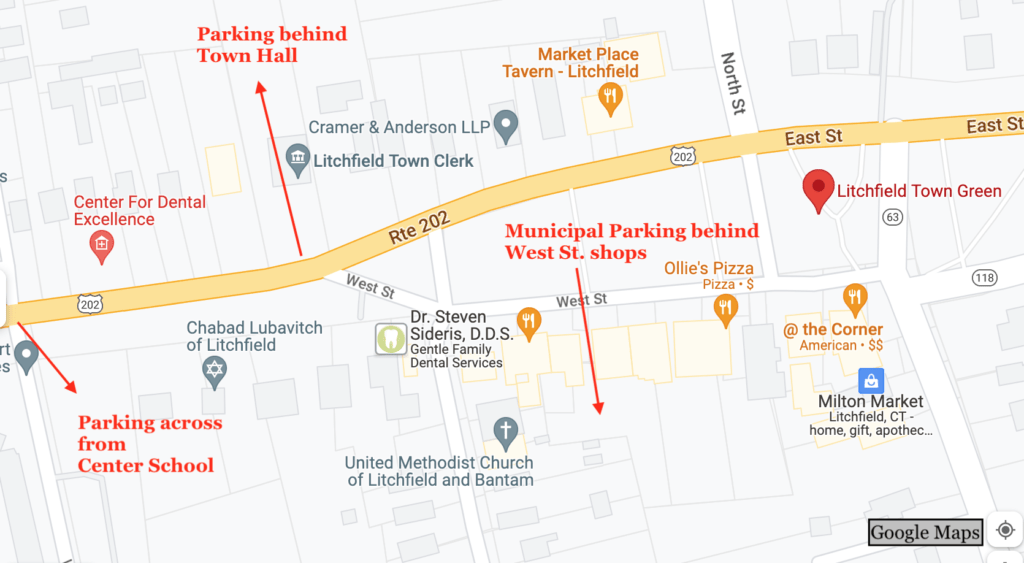 Bantam Map