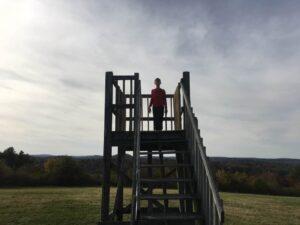 Walking in the woods on the 40 miles of trails spanning the 4,000 acres of White Memorial preserves in Litchfield and Morris ranks as one of the best outdoor experiences in Connecticut.
Know what's even better?
The FREE guided hikes that explore White Memorial's special trails and places offered on a regular basis and most often led by the Gerri Griswold, White Memorial's Director of Administration and Development.
She leads groups through Cat Swamp – her favorite place – up Apple Hill to the viewing platform overlooking Bantam Lake – another favorite place – along the Lake Trail and Ice House Ruins Trail near the main conservation center, throughout the Five Ponds area, along the "hidden" trails near Haight-Brown Vineyard, around the Little Pond Boardwalk … and basically everywhere.
The hikes are so popular, and people message and call White Memorial so often inquiring about what's coming up, that Griswold and her colleagues decided to create a webpage dedicated solely to the guided hikes.
You can click directly into the page to get the roster and the details, as well as registering to participate in a hike, and there's also a link on the White Memorial homepage leading to the guided hikes page; it's in the menu bar on the far left. Here's what's coming up:
May 20: Hitting White Memorials Peaks. It's not as difficult a feat as it may sound! Today we'll hike up Windmill Hill, Wheeler Hill, Apple Hill, Laurel Hill, and Schermerhorn Hill.
June 1: Amphibian Amble: For All Ages! Join Pam Velez on a jaunt to find those sleek and slimy creatures we call amphibians.
July 1: Exploring Slab Meadow with Gerri Griswold. This beautiful parcel, acquired by the White Memorial Foundation in 2015, is peppered with vernal pools and features a beautiful overlook onto a marsh.
July 13: Tree Identification Walk with Mike Berry and Jody Bronson. White Memorial Foundation Forest Manager, Mike Berry and Legendary Forester, Jody Bronson take you on a walk to help you properly identify some of the tree species that call our 4000-acre Sanctuary their home.
July 29: Family Friendly Hike with Kelly Orr. Join Kelly on an easy hike along the trails of our main campus listening for the birds, insects, and amphibians that make such sweet summer sounds!
September 2: Loving Haight with Gerri Griswold Pack a snack and some water! Explore this beautiful piece of property that is laced with babbling brooks, towering trees, a bevy of birds, and a view of the vineyard.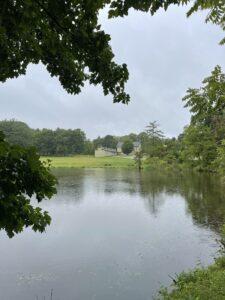 While the hikes are free, donations are happily accepted to help defray the Conservation Center's programming expenses – and now those who experience and appreciate the wonders of White Memorial can donate quickly and easily online when they sign up for a guided hike.
As wonderful as it is to be outdoors in nature and simply enjoy the beauty and serenity of the gift left by White Memorial founders Alain and May White, magical things can happen on the guided hikes.
Griswold recalled the early days of her guided hikes stewardship when she invited friends from her former realm – broadcasting – to join her to help lead a hike.
Rachel Lutzker, currently a host on The River 105.9 FM, came out with her husband, Dave, for a hike in the Five Ponds area off Route 63, south of Litchfield center. The group heard a barred owl calling and Griswold started calling back. Suddenly the owl came swooping in and landed in a tree very close by.
Last year, Griswold was leading a group of people on an early morning walk to look for beavers and brought the group to a lodge on one edge of Ongley Pond that had been ruined by an invader, perhaps a bear. The demise of the lodge presented an opportunity for participants to look inside and admire this architectural feat. When the group arrived, though, there was a beaver hard at work at the edge of the pond. As they group approached the lodge, they could hear that the beaver had moved his work inside. It turned out that he had completely repaired the home.
Beavers have a special place at White Memorial – one is featured on the White Memorial Foundation plaque at the main entrance – and maybe they know this is their turf? Griswold recalls leading a full-moon paddle tour on the Bantam River and despite the "armada" of boats there were beavers everywhere in the river. Taking the lead and navigating with the help of a headlamp, Griswold thought she bumped her boat into a log, but it turned out to be a beaver – and she thinks it bumped her, perhaps to let her know who was in charge.
"It's so wonderful to be able to share this wonderful bounty with everybody," Griswold said.
Guests who enjoy White Memorial and come for the guided walks and other popular events are encouraged to learn about the legacy left by the Whites, visit the nature museum and its gift shop, support the work being done at the sanctuary – and to be respectful and treat this natural treasure as if it were your own.
To learn more, call White Memorial at (860) 567-0857 or see the website.