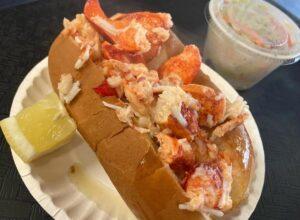 The 12 best lobster rolls in New England, according to chefs, include the delicious one you can find at West Shore Seafood on Route 209 above Bantam Lake in the Bantam section of Litchfield.
That's according to the story published this week on the digital platform Eat This, Not That!
Chef Adrienne Lufkin, the founder of Struesli, the Newtown-based maker of chef-crafted "clean superfood" granola, recommended West Shore Seafood for its "top-tier lobster roll."
"It's open seasonally with an awesome selection of super fresh seafood in a casual, family-friendly, outdoor dining experience," she said in the Eat This, Not That! story. "The buttered, grilled rolls are brimming with fresh lobster meat served hot or cold, both delicious."
West Shore Seafood was one of two Connecticut lobster roll spots honored on the best-of list. The other one is a shoreline classic – Lobster Landing in Clinton.
That write-up says:
Chef Michael DeLone of Nunzio in Collingswood, N.J. says that as someone who makes authentic Italian food but loves to both work with and eat seafood, he's found the best lobster roll to be in Connecticut — and he's tried many.

"The best one, hands down, is in Connecticut at a little place right on the water called Lobster Landing," he explains. "Some people like a cold lobster salad roll and while those are good too, I always personally go for the warm, butter-kissed, lemon-scented gobs of tail, knuckle, and claw meat in a perfectly toasted split top potato hot dog bun — and that's what this lobster roll is."
It's fitting that two roadside seafood "shacks" in Connecticut made the 12-best list, given that LobsterAnywhere, a purveyor of Maine lobsters, traces the invention of the lobster roll back to Connecticut. Its lobster roll history says:
" … the lobster roll can be traced back to the Roaring Twenties to a restaurant called Perry's in Milford, Connecticut. The story goes that Harry, the proprietor, invented the portable sandwich after a travelling liquor salesman swung by his eatery. The salesman was hankering after a "hot grilled lobster sandwich" to take with him on the road. Harry, being quick-thinking and nimble-fingered, created one on the spot."
West Shore Seafood, meanwhile, has both a seafood market and an extensive menu of prepared foods for eat-in or take-home that goes far beyond lobster rolls. You can order online, call 860-567-8000 or just stop by. The address is 449 Bantam Lake Rd.
Currently on its Early Spring Kitchen Hours, West Shore Seafood is open for dining Thursday – Saturday, from 11 a.m. – 3p.m. and 4 p.m. – 7 p.m., and Sunday from noon to 6 p.m. The seafood market stays open between 3 and 4 and closes one hour earlier than the kitchen.