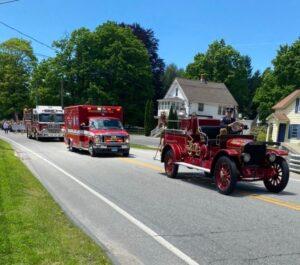 Memorial Day Weekend has a split personality. The holiday itself has a somber tone. It's set aside to remember and honor all those died serving our country.
The long weekend that culminates on Memorial Day, meanwhile, marks the unofficial start of summer and represents an invitation to gather with family and friends for parties and picnics, outdoor recreation, and fun in general.
Our list of 6 things for the weekend agenda covers both aspects and features some scheduled events as well as suggestions you can enjoy this weekend or beyond – and the list is by no means comprehensive.
SATURDAY
Litchfield Hills Farm-Fresh Market
Visit the farmers market from 10 a.m. to 1 p.m. at Litchfield Community Center to stock the pantry for a delicious holiday weekend with everything from handmade granola, local honey and maple syrup, goat milk soaps and apple pies to artisan breads, spring produce, locally grown mushrooms, locally roasted coffee beans, award-winning cheeses, and more. Follow the Litchfield Hills Farm-Fresh Market page on Facebook for updates.
Ace is showcasing new backyard & BBQ equipment Saturday in an event from 11 a.m. to 2 p.m. that also includes food demos and samples. Flashing by on Instagram stories we saw a mention of pulled pork sliders and grilled asparagus, as well as wings, cookies, and pepperoni pizza. Oh, and guests can enter to win 1 of 3 grill-themed raffle baskets (no purchase necessary). Sounds like a party not to miss. Follow that Instagram feed for updates.
SUNDAY
Bantam Memorial Day Parade
The parade takes shape on Doyle Road in Bantam center and begins at 1 p.m. It proceeds down Doyle Road and turns left on Route 202 to proceed to the All-Wars Memorial for a ceremony. Those enjoying the parade can head to Bantam Borough Hall afterward for refreshments. Watch the American Legion Post 44 Facebook page for updates.
MONDAY
Litchfield Memorial Day Parade
Litchfield's Memorial Day Parade forms at the top of North Street and the intersection of Norfolk Road and begins at 10 a.m. It proceeds down North Street to the center of town and follows West, Meadow, Wolcott, and South streets to make a big loop before returning to the Green. A ceremony follows the parade. If rain cancels the parade, a ceremony will be held at American Legion Post 27 at 10 a.m. Follow the Post 27 Facebook page for updates.
This Weekend & Beyond
Sandy Beach in a photo from the Facebook page.

Sandy Beach, the public beach on Bantam Lake, tucked into a lovely location off pretty East Shore Road, opens for the season Memorial Day Weekend. There's swimming, boating, volleyball, fishing, bathrooms, a picnic area, and even a concession stand—all of which makes it "the best kept secret on Bantam Lake." Hours, fees and other information are on the website.
Mount Tom State Park on the southwestern edge of Litchfield, off Route 202, may be the town's "best kept secret." There's a beach for swimming, a boat launch for canoes, kayaks and other non-power boats, a picnic area, and a hike to a stone tower with commanding views. 
Pro Tip: Road Food
Memorial Day Weekend is the perfect time to discover or enjoy Litchfield's classic "road food" stands.

Gooseboro Drive-In LLC, affectionally called "the Goose" by fans, has been a roadside destination for its burgers, hot dogs, fried seafood, homemade chili, shakes, soft serve ice cream, banana splits, and more for six decades. If you plan to go, note that Gooseboro doesn't accept cards. It's cash only. Gooseboro is open seven days a week until it closes for the season, typically in mid-October. The address is 1293 Bantam Rd. (Route 202 near Mt. Tom Pond/State Park) and the phone number is (860) 567-9356.

West Shore Seafood on Route 209 in Bantam was just honored for having one of the 12 best lobster rolls in New England by Eat This, Not That! The roadside "shack" has both a seafood market and an extensive menu of prepared foods for eat-in or take-home that goes far beyond lobster rolls. You can order online, call 860-567-8000 or just stop by. The address is 449 Bantam Lake Rd.
Add more variety to your Memorial Day Weekend agenda via the Visit Litchfield CT website. Head to our Outdoor Activities page to find terrific hikes and other opportunities. Spend time in our Eat & Drink section to connect to the best coffee, baked goods, sweets and homemade ice cream for pit stops, and head to Dining for terrific restaurants, many with outdoor dining, and make sure to use our Provisions page to stock the fridge and pantry for barbecues and family gatherings.