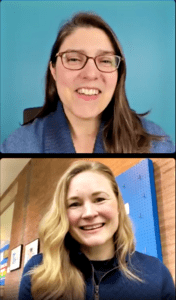 Visit Litchfield CT launched an Instagram Live series April 27 featuring conversations between Lindsey Turner, Vice Chair of the Economic Development Commission, and Kate Zullo, Head of Education at the Litchfield Historical Society.
The first episode focused on the historical society reopening for the new season on Saturday, April 30, the new exhibits, the popular walking tours, and more.
The next IG live conversation in the series will focus on the experience of visiting the historical society's Tapping Reeve House and Litchfield Law School, followed by a third one discussing the walking tours for children and families. Stay tuned for scheduling details.
Meanwhile, the history museum and the Tapping Reeve House and Litchfield Law School reopen for the season April 30 with new exhibits and programming.
The exhibit "To Certain Western Lands" will introduce visitors to Connecticut's Western Reserve, now in present day Ohio, and it's joined by an updated version of the exhibit "Antiquarian to Accredited: A Look Inside the Historical Society."
Season-opening events include "Slavery Here, The Life of William Grimes: Walking Tour and Gallery Talk," April 30 at 10 a.m. Kate Zullo will lead a walking tour exploring the sites connected to the life of William Grimes, who escaped from slavery in Georgia wrote his autobiography in Litchfield in 1825. (Free for members, $10 for non-members.) Register online.
On May 5 at 6 p.m., Curator of Collections Alex Dubois will present the story of Connecticut ownership of northern Ohio in the "To Certain Western Lands: Curator Talk and Tour." This program is free to the public. Registration is requested but not required.
The Litchfield History Museum (7 South Street) and the Tapping Reeve House and Litchfield Law School (82 South Street) will be open Tuesday through Saturday, 11 a.m. to 5 p.m., and Sunday 1 to 5 p.m. Admission is free!
Learn more at www.litchfieldhistoricalsociety.org or call (860) 567-4501.
Follow the historical society at @litchfieldhistory on Instagram and @Litchfield.Historical.Society on Facebook, and follow us @VisitLitchfieldCT on both platforms, as well as heading to the VisitLitchfieldCT website to sign up for our email newsletters.