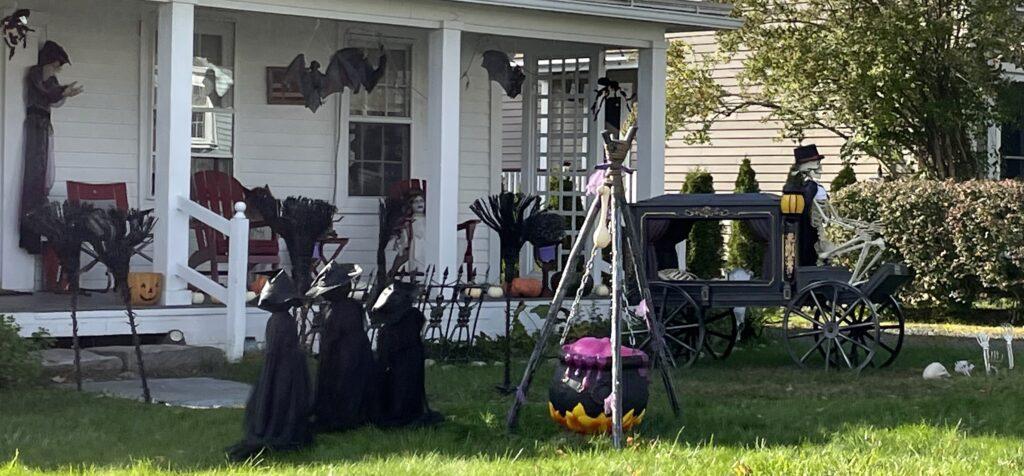 Ask a Baby Boomer or early Gen X-er about what Halloween used to be like and what made a "real" Halloween town and you'll hear tales of elaborate lawn displays, serious costume creations, rituals like watching "It's the Great Pumpkin, Charlie Brown," families and groups of friends tricker-treating together on foot across multiple neighborhoods, tales of the scary stuff that happened along the way, and the all-important tallying of the candy haul.
Halloween has changed in ways that don't please purists—but not in Litchfield, which remains a classic Halloween town. The spooky and elaborate lawn displays are already up around town, the Scarecrows in the Meadow are coming (who else has that?), scary events are on the calendar, dark tales from the past surface for the retelling, there's a hometown candy shop stocked with non-box-store treats, our walkable neighborhoods welcome trick-or-treaters, and we even have a true Halloween Ball!
The Lawn Displays and a Bit of Dark History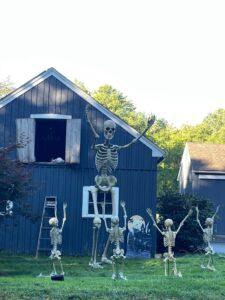 Two lawn displays in particular caught our attention so far this season—the creepy gent with his horse-drawn hearse and coven of witches on Meadow Street, and the equally creepy skeletons at the bottom of Gallows Lane.
Perhaps it's not coincidental that this bony crew is located at the foot of Gallows Hill. According to Peter Vermilyea's post on Connecticuthistory.org, Gallows Lane indeed got its name for the executions that took place there.
It was the site of at least three hangings in the 1700s, including that of Barnett Davenport, who was born in New Milford in 1760, according to Vermilyea's account, and served in the Continental Army under George Washington. He was also a convicted horse thief and a deserter who returned home to work in a grist mill in Washington operated by Caleb Mallory.
On a February night in 1780, Davenport entered the Mallory home and beat to death Caleb, his wife Jane, and a granddaughter Charlotte. He stole the valuables in the house and set it on fire, killing two grandsons, John and Sherman. Later captured in Cornwall, Davenport was brought to Litchfield, the official county seat, confessed, and went to trial, presided over by Declaration of Independence signatory Roger Sherman. The sentence: hanging on Gallows Hill.
"The World's Most Haunted Places," Oct. 6
The Forum of Litchfield County (formerly The Women's Forum of Litchfield) is hosting a talk Oct. 6 at the Litchfield Community Center featuring Jeff Belanger, author of "The World's Most Haunted Places" and "Ghosts of War: Restless Spirits of Soldiers, Spies, and Saboteurs."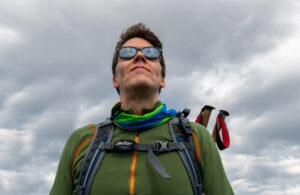 "His program will explore the haunts around the world and those in your own backyard," according to the event announcement. "Jeff brings different stories every time and no two are the same. This multimedia program draws from his research in his books, podcasts, adventures, and the various TV shows that he's worked on. The presentation will showcase one of New England's premiere storytellers for a trip through the unusual and the unexplained. There will also be a Q&A and book-signing."
A storyteller, adventurer, journalist and the author of more than a dozen books, Belanger has interviewed thousands of eyewitnesses to paranormal occurrences. He is also the Emmy-nominated host, writer and producer of the PBS and Amazon Prime series "New England Legends," and the weekly New England Legends podcast.
This program will be held on Thursday, Oct. 6, at 2:30 p.m. at the Litchfield Community Center. The event will be open to non-Forum members with a $10 fee at the door, which includes tea and cookies following the program. For more see the website,  womensforumoflitchfield.org.
Scarecrows in the Meadow, Oct. 15-31
+ More Scary Stuff from Litchfield Historical Society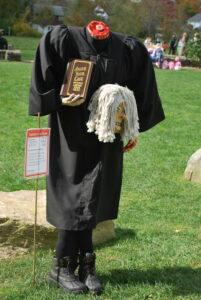 The Litchfield Historical Society's 3rd annual Scarecrows in the Meadow returns to the Tapping Reeve Meadow on South Street from Oct. 15 through Oct. 31, open for visiting every day from dawn to dusk. All of the scarecrows are created by local businesses, non-profits, and families.
An Opening Celebration is scheduled for Oct. 15, from 1 to 3 p.m., when the more than 50 scarecrows will make their formal debut. There also will be a scarecrow making contest, fall activities, and voting for guests' favorite scarecrows. This event is free and open to the public, and no registration is necessary. The Tapping Reeve Meadow is located at 82 South St.
'The Legend of Sleepy Hollow' performed by Master Storyteller Jonathan Kruk
On Wednesday, October 19, from 5:30 to 7 p.m. in the Tapping Reeve Meadow, "The Legend of Sleepy Hollow" will come to life via storyteller Jonathan Kruk … surrounded by the Scarecrows in the Meadow.
We all know of Washington Irving's class tale of the Headless Horseman and Ichabod Crane, but you don't know the whole story until you experience Jonathan Kruk's retelling, the historical society teases.
The event is free for members, and $10 per person, or $25 per group for non-members. Pre-registration is recommended,  and participants are encouraged to bring chairs and blankets for seating and to dress warmly.
Stories to Keep You Up at Night – Lantern Tour
Join the historical society on Friday, Oct. 21, for a spooky night of Litchfield's most frightening and gruesome true stories. [Note: The tour has sold out at this point but there is a second one scheduled for Oct. 25.
The tour starts at the Tapping Reeve Meadow, where guests will enjoy historically inspired cocktails and treats before grabbing lanterns and heading into the darkness to learn about the violent and scandalous side of Litchfield's history.
The event runs from 5:30 to 7 p.m. and the walking tour itself lasts about an hour and covers roughly a mile. The cost is $15 for members and $20 for non-members.
Space is limited and registration is required. In the event of rain or inclement weather, the program will not be held.
Halloween Trick-or-Treating in the Tapping Reeve Meadow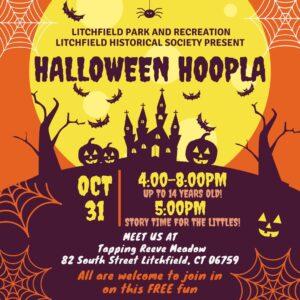 Litchfield Park & Rec recently posted this event:
Who's ready for HALLOWEEN!?
Join us on Halloween Night
(10/31) for fun trick or treating
from 4pm-8pm and a story time
at 5pm at Tapping Reeve Meadow!
Don't forget to take a jaunt through the Meadow
to see all the scarecrows!
Can't wait to see all the great costumes!!
Halloween Ball, Oct. 29
The Junior Women's Club of Litchfield Hills is throwing a Halloween Ball Oct. 29 at the Bantam Firehouse. Spooky and social … we love it!
Founded in 1965, the Club is a non-profit, all-volunteer organization affiliated with Connecticut Junior Women, Inc. that works for the betterment of our community through fund allocations, scholarships, emergency funds and assistance for families in need. See the website to learn more.
The Litchfield Candy Company
We have to end on a sweet note. Our hometown Litchfield Candy Company is stocked for Halloween, and the autumn season in general, with candy, chocolates, treats, sweets, novelties and more—with options that go way beyond what you'll find at a big box store.