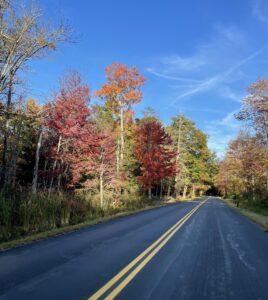 The Connecticut Department of Environmental Protection's fall foliage map has Litchfield's autumn colors reaching their peak starting this weekend, which is a bit early because of the summer drought but also perfectly timed to the long holiday weekend (Columbus Day/Indigenous Peoples Day). 
Litchfield is even more of a destination than usual in the fall because so much of the beautiful landscape is preserved and etched by a wealth of walking/hiking trails that access and frame the foliage in often dramatic ways.
Our headline on this post is deceiving … in a positive way. We present 10 of our favorite autumn walks below, but outdoor enthusiasts can discover so many more than 10 great hikes simply by connecting with the resources and trail maps of White Memorial, the Litchfield Land Trust, the Litchfield Community Greenway, Topsmead State Forest, Mt. Tom State Park, and the Litchfield Hills Audubon Society.


White Memorial Foundation
White Memorial has 40 miles of trails across 4,000 acres, so the woods are your oyster, so to speak.
It makes sense, especially for the uninitiated, to start at home base, The White Memorial Conservation Center, to get your bearings and consult the trail maps.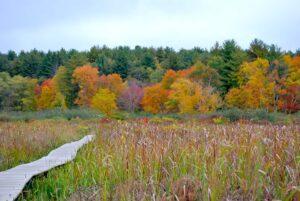 While you're there, take the Lake Trail from the museum area to the Bantam Lake viewing platform. It's a short, flat walk and great for families and even young children. (Continue past the platform to see the ruins of a massive ice house operation, including a narrow canal through which blocks of ice were floated from the lake to the ice house and then onto rail cars bound for posh spots in New York City.)
The Little Pond Boardwalk Trail is so popular it has its own White Memorial website page. The 1.2 mile wooden walkway that elevates hikers above the wetland environment around Little Pond, which crosses the Bantam River in two spots, is like being immersed in an explosion of autumn colors. Making access easier, there's a large new parking area off Whites Woods Road, just north of the intersection with Bissell Road.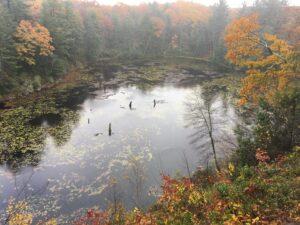 A prime fall foliage spot is Apple Hill (elevation 1,120) which has a viewing platform high above Bantam Lake offering gorgeous views of lake and the canopy of foliage stretching toward New York. There are two access points, both along East Shore Road. One is a longer route that goes up and down a bit and through Cat Swamp, and the other is a short uphill walk that gets you to the visual rewards much faster.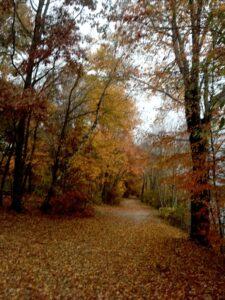 Another don't-miss spot is the Plunge Pool overlook in the Five Ponds area off Route 63, with the main parking area at the junction of Route 63 and Route 61 south of Litchfield center. It takes consulting the trail map, but there's a manageable route that makes a loop passing Plunge Pool and returning along the rim of Heron Pond, where the trail is distinguished by a handful of short boardwalk sections.
The best White Memorial walk for families looking for foliage and great views in an easy-access, short walk the kids can handle is Point Folly on Bantam Lake. It's actually a White Memorial campground and the trail is the dirt access road around the peninsula that juts out into the lake—but in non-camping season it's one of the loveliest little walks in Litchfield. (And there's a viewing platform the kids will love.)
Topsmead State Forest
Topsmead State Forest is another of Litchfield's don't-miss experiences, and the trails through open meadows, the woods, and along old dirt roads are great for fall foliage.
You'll easily find the Edith Chase Ecology Trail and the Red Trail through the high meadows, but take a look at the trail map, seek out the Yellow Trail, and follow it into the woods and around the pond for some of the best autumn colors—and on your way to connecting with an old road for the return trip to the main area you'll pass through a cathedral of pines that's really cool.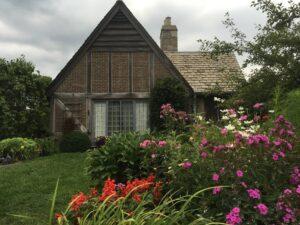 Miss Edith Morton Chase came from a prominent and wealthy Waterbury family. Her father, Henry Sabin Chase, ran Chase Brass and Copper Company. He gave her 16 acres on Jefferson Hill in Litchfield in 1917 and the 1925 cottage was designed by noted architect Richard Henry Dana, Jr.
When Miss Edith died in 1972, she left the estate, which had grown to 511 acres, to the state "for the pleasure and enjoyment of the people of Connecticut."
Concierge Tip: Go this weekend because Oct. 8 & 9 are the last days for the free tours of the cottage this season offered by the terrific Friends of Topsmead State Forest group. Head to www.friendsoftopsmead.org for information, including times and directions.


Mt. Tom State Park
Located along Route 202 on the far western edge of Litchfield, Mt. Tom State Park is a one-hit wonder for hikes—but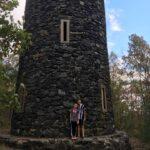 what a hit it is. The trails, which many would consider a steep climb, lead up to a stone observation tower. Climb to the top for wonderful views of the autumn leaves spreading across the western landscape. (If the weather is nice, Mt. Tom is a perfect spot to enjoy a picnic.)
Litchfield Land Trust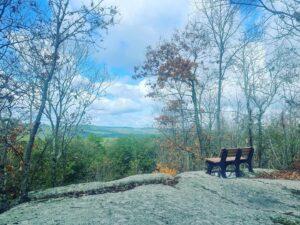 The Litchfield Land Trust has a "hidden gem" in the 340-acre Prospect Mountain Preserve and its roughly 4.3 miles of trails located less than 10 minutes from Bantam center off Cathole or Prospect Mountain roads.
And it's definitely a great spot for fall foliage. Take the Blue Trail from Cathole Road to pass remnants of nickel mining operations and reach the summit views, which, at an elevation of 1,350 feet, offer a long vista to the west/southwest.
If you're looking for a shorter and less challenging walk, head to Prospect Mountain Road and the loop around Granniss Pond, a little less than a mile long and easy walking.
Check out the trail maps for access points.
Litchfield Hills Audubon Society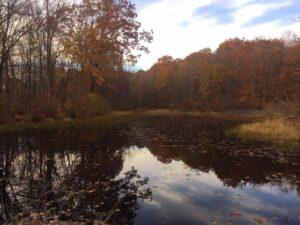 The 106-acre Boyd Woods Audubon Sanctuary of the Litchfield Hills Audubon Society LHAS, located off Route 254, has more than four miles of interconnecting trails, as well as views of Wigwam Brook and Margery's Bird Pond, which means being surrounded by lots of pretty colors in the fall.
Litchfield Community Greenway
The Litchfield Community Greenway runs from North Lake Street to St. Anthony Cemetery with its own distinct segments on each end and overlaying White Memorial trails in the middle—with a big boardwalk alongside Bissell Road.
The section that runs behind St. Anthony Cemetery is the hotspot along the greenway for fall foliage—and there's even a new parking area off Whites Woods Road that was built just to access that area. See the trail map (which predates the parking area.)
Visit Litchfield CT Concierge Tip:
Make your autumn experience in Litchfield more nuanced and delightful by discovering/visiting our hometown gems that range from great coffee shops and scratch bakeries to delis and restaurants, gourmet shops, wine, craft beer & spirits purveyors, Litchfield Distillery, Haight-Brown Vineyard, fashionable shopping, art galleries, museums and much more. (Info on all of it can be found on the VisitLitchfieldCT website.)
Our preferred weekend itinerary goes like this: Morning walk, pit stop for coffee & a croissant (or scone, breakfast sandwich, etc.), shopping in Litchfield center and a stop at the Litchfield Historical Society (free admission), an early light lunch, a long, rambling afternoon walk (or maybe two walks divided among "venues"), and all of it wrapped up early enough to hit a couple bakeries and gourmet shops, as well as a wine shop, for provisions or take-home dinners to enjoy by the fire with a movie. Or mix it up and come after lunch, start with a coffee & dessert, move on to shopping and a late afternoon walk and then stay for dinner.