There's no better place than Litchfield to enjoy Memorial Day weekend. That may seem like a bold declaration, but the town has all the elements that bring richness to the unofficial start of summer.
With a history that dates back to the Revolutionary War, Litchfield always remembers those who died in service to the country. American Legion Post 44 in Bantam and the Morgan Weir Post #27 are guiding lights in honoring the men and women who have safeguarded the nation and the world from the Declaration of Independence to today—and they do it year-round with passion and dignity.
This weekend that means the magic that gives grateful adults goosebumps and delights families and children—parades!
Bantam Parade and Memorial Day Service
Sunday, May 29
The parade forms at 12:30 p.m. in the parking lot of Bantam School and steps off at 1 p.m., signaled with a volley by the First Litchfield Artillery, according to American Legion Post 44.
Antique, unique, and convertible cars are invited to join the procession, which will include the Westbrook Jr. Fife and Drum Corp, the Bantam Fire Company and local Scout troops, among others.
It proceeds to the All-Wars Memorial for a short service that will include music, taps, a wreath-laying by Bantam Fire Company members and an address by Vietnam Veteran John Cox, with Steve Ardussi acting as master of ceremonies. Both are members of American Legion Post 44.
After the service refreshments, will be served at the Bantam Borough Hall.
Litchfield Memorial Day Parade,
Monday, May 30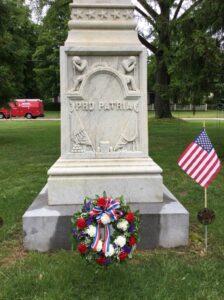 The Litchfield Memorial Day Parade will be held on Monday, May 30, at 10 a.m.
Participants will assemble on North Street (Route 63) around 9:30 a.m., guided by members of American Legion Morgan Weir Post #27, which takes the lead on parades and ceremonies for both Memorial Day and Veterans Day, along with the flag retirement ceremony June 14, and placement of flags for all veterans in Litchfield cemeteries on the Saturday before Memorial Day.
The First Litchfield Artillery will start the parade with cannon volley and a C130 fly-over is expected, according to Jim Amrich, Morgan Weir Post #27 Treasurer.
A ceremony will be held on the Green after the parade, with Brian Finan as guest speaker, followed by a gathering with refreshments at Post #27 on Bantam Road. (Should it rain, events will be moved to the Post.)
The flag replacement at Litchfield cemeteries takes place no matter the weather. Participants and guests, who are encouraged to attend, meet at the Post at 9 a.m.
Another parade in Northfield is scheduled for June 5; stay tuned for details.
Where to Get Your Flags
Customers visiting Ace Hardware of Litchfield on May 28 will receive a free 8-by-12-inch American flag, according to Litchfield.bz. Ace is also grill and barbecue central, making it a key resource for Memorial Day Weekend.
Cool Off by the Lake … or On the Lake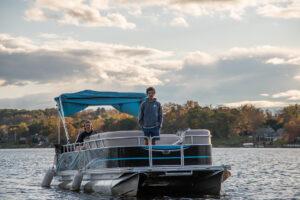 Sandy Beach, the public beach on Bantam Lake, tucked into a lovely location off pretty East Shore Road, opens for the season May 28. There's swimming, boating, volleyball, fishing, bathrooms, a picnic area, and even a concession stand—all of which makes it "the best kept secret on Bantam Lake." Hours, fees and other information are on the website.
For Litchfield residents and out-of-town visitors lucky enough to score passes, Litchfield Town Beach off North Shore Road is another haven for soaking in the sun, swimming, picnicking, fishing, and more. Litchfield Park & Recreation provides the information for enjoying the beach on its website.
Options for boaters to access Bantam Lake include the state boat launch off Route 209 on the Morris side of the lake, and the White Memorial Point Folly Marina and Boat Launch.
You're not out of luck if you don't have a boat, though.
Sportsmen's in Bantam not only sells kayaks and SUPs but also provides daily or multi-day rentals, evening bringing the boats to the lake or to Mt. Tom Pond. Details and prices are on the website.
Connecticut Watersports on East Shore Road in Morris specializes in providing watersports and boating experiences on Bantam Lake. Guests can enjoy water skiing, wakeboarding, wake surfing, tubing, and more led by an experienced crew. There's also pontoon charters.
The staff is completely licensed and CPR/AED certified. Head to the website to learn more.
Perfect Weekend to Discover Mt. Tom Pond
Mount Tom State Park on the southwestern edge of Litchfield, off Route 202, may be the town's "best kept secret." There's a beach for swimming, a boat launch for canoes, kayaks and other non-power boats, a picnic area, and a hike to a stone tower with commanding views.
And there's no parking/admittance fee for vehicles with Connecticut plates under the state's Passport to Connecticut State Parks and Forests program.
And Enjoy Everything Else You Love!
Besides the parades, the beach and the lake, and the barbecues, Memorial Day weekend means kicking back in general and enjoying leisure time. To us, that means an opportunity to do all the things we love all weekend long.
Head to our Outdoor Activities page to find terrific hikes and other opportunities.
Spend some time surfing our Eat & Drink section to connect to the best coffee, baked goods, sweets and homemade ice cream for pit stops, and head to Dining for terrific restaurants, many with outdoor dining, and make sure to use our Gourmet Shops & Provisions page to stock the fridge and pantry for barbecues and family gatherings.
Speaking of which, don't forget to stop by the Litchfield Hills Farm-Fresh Market from 10 to 1 Saturday at the Litchfield Community Center.