The fall foliage and autumn harvest season are peaking at the same time in Litchfield, making this the perfect weekend (and beyond) for a colorful walk in the woods and visits to our farms and farm stands for pumpkins, apples, hayrides, a corn maze, and more.
Make sure to check out the Farms & Farmers Markets page on the Visit Litchfield CT website (https://visitlitchfieldct.com/farms/), which includes a link to an interactive map showing the location of each farm and offering more details.
And see our blog post detailing 10 terrific walks and hikes for enjoying the autumn leaves (https://visitlitchfieldct.com/10-great-fall-foliage-walks-in-litchfield-autumn-2022/)
Bunnell Farm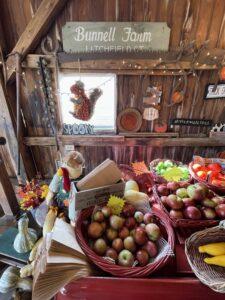 This fifth generation farm in the rural and pretty Milton section of town is in its prime time for visitors, offering all the best autumn rituals:
* Pick your own pumpkins
* A professionally designed and cut corn maze (and children's maze)
* Hay rides
* Fall gifts
* Hot dogs & more
+ pumpkin scones!
The perfect family destination, Bunnell Farm is open Saturdays and Sundays in October from 10:30 a.m. to 5:30 p.m. and weekday appointments can be scheduled.
524 Maple Street
(860) 567-9576
Litchfield Hills Farm-Fresh Market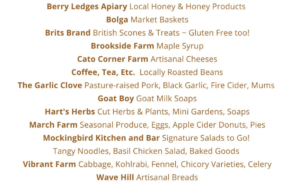 The Litchfield Hills Farm-Fresh Market wraps up its outdoor season this Saturday, Oct. 15, from 10 a.m. to 1 p.m. in the parking lot on Woodruff Lane across Center School.
If you don't go often, or haven't discovered the bounty the market offers, this is the weekend to experience it in the glory of the autumnal harvest landscape.
As of 10/22, the market continues at Litchfield Community Center every Saturday through early June, 2023, when the outdoor season resumes. Watch the Facebook page for updates.
125 West Street
(market in parking lot on Woodruff Lane)
Chanticleer Acres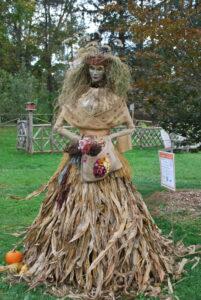 Located on a rural road heading toward Milton, Chanticleer Acres is dedicated to regenerative no-till organic practices to produce a wide variety of non-GMO food, including heirloom vegetables, root vegetables, herbs and flowers. There's also fresh eggs at the veggie hut, open daily from dawn until dusk. (We also saw pumpkins there recently.) It's less than 10 minutes from the center of town.
Follow @Chanticleeracres on Facebook and Instagram for the latest.
51 Hutchinson Pkwy
(860) 361-9366
Winter Winds Farm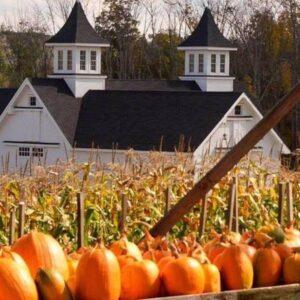 Winter Winds Farm has been offering weekend veggie bundles featuring the farm's own ground beef, as well as things like zucchini, corn, summer squash, winter squash, peppers, beans, kale/Swiss chard, carrots, and more. The bundles go fast, so monitor the Facebook page (https://www.facebook.com/NorthwestTree) for each weekend's details. It's a cash or check operation located on Route 63 a bit north of the historic district, and part of the Northwest Tree family. The farm also produces pumpkins and maple syrup.
426 Goshen Road
(Look for vegetable signs on Rte. 63 North and drive down the dirt driveway to the farm stand.)
Tara Farm
Located in Watertown, Tara Farm operates a seasonal farm stand along Route 202, offering tomatoes, corn, veggies, berries, pumpkins and more throughout the summer and into the fall.
433 Bantam Rd. (near Litchfield Auctions and Lostocco Auto Parts)
(860) 274-8147
Ox Hollow Farm Stand 
Ox Hollow Farm Stand is located along Route 202 across from Mt. Tom Pond on the western edge of Litchfield and is open daily into November. If offers all-natural, pasture raised angus beef, pork, chicken, lamb, eggs and seasonal vegetables.
810 Bantam Rd.
(860) 567-0236
Scarecrows in the Meadow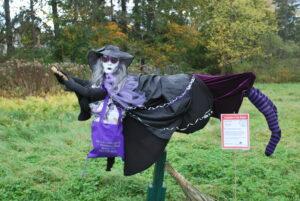 While you're out visiting farms and farm stands, make sure to stop by the Litchfield Historical Society's 3rd annual Scarecrows in the Meadow display in the Tapping Reeve Meadow behind the Tapping Reeve House and Litchfield Law School on South Street.
The scarecrows will be on display from Oct. 15 through Oct. 31, and the meadow is open for visiting every day from dawn to dusk. All of the scarecrows are created by local businesses, non-profits, and families.
An Opening Celebration is scheduled this Saturday, Oct. 15, from 1 to 3 p.m., when the more than 50 scarecrows will make their formal debut. There also will be a scarecrow making contest, fall activities, and voting for guests' favorite scarecrows. This event is free and open to the public, and no registration is necessary.
82 South St.
(860) 567-4501