What other town offers three terrific opportunities to delight in celebrating Halloween with old-school costume parties and trick-or-treating? And they're spread over three days, allowing for spooky-stylish immersion.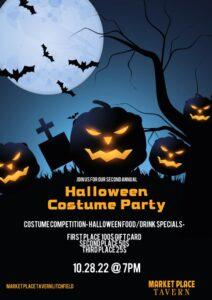 Marketplace Tavern at The Old Litchfield Jail, decorated in spooky chic style, is throwing a Halloween party Oct. 28, announced like this on its Facebook page:
GET YOUR SPOOKY PARTY PANTS ON!!
Join Us For Our Second Annual Halloween Party @ The Tavern on Friday 10/28 7PM!!
Winners of the Costume Competition Will Receive 100$ Gift Card for First Place, 50$ Second, 25$ Third, Valid at Any of Our Locations!
THE OLD JAIL IS COMPLETELY SPOOKED OUT!
Halloween Themed Food & Drink Specials
Monster Mash on Repeat
The Junior Women's Club of Litchfield Hills is holding a classic Halloween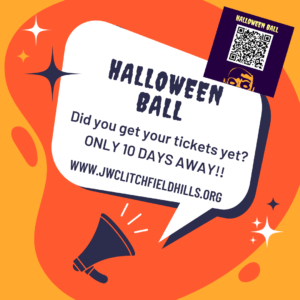 Ball Oct. 29 at 7 p.m. at the Bantam Firehouse and the event listing goes like this:
Join us for a great night of dancing with DJ Zerp! Wear your best costumes and enter the costume contest! Buy some tickets for the 50/50 raffle. Snacks provided, but feel free to bring your own. Costumes preferred, but not required. BYOB. Adults only 21 and over. Proceeds go to local charities and families in need.
Tickets are $25 and you get them online: https://www.eventbrite.com/e/halloween-ball-tickets-417489049987 Watch the Club's Facebook page for any updates.
Founded in 1965, the Club is a non-profit, all-volunteer organization affiliated with Connecticut Junior Women, Inc. that works for the betterment of our community through fund allocations, scholarships, emergency funds and assistance for families in need. See the website to learn more.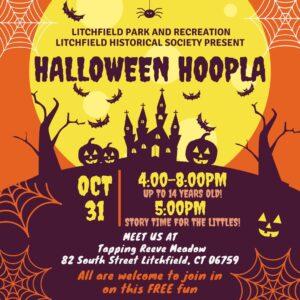 The third dress-up opportunity, Halloween Trick-or-Treating in the Tapping Reeve Meadow, is designed for children and families. It's a collaboration between Litchfield Park & Rec and the Litchfield Historical Society.
Here's the Park & Rec listing:
Who's ready for HALLOWEEN!?
You know we are with Litchfield Historical Society !!
Join us on Halloween Night (10/31) for fun trick or treating from 4pm-8pm and a story time at 5pm at Tapping Reeve Meadow!
Don't forget to take a jaunt through the Meadow to see all the scarecrows!
Can't wait to see all the great costumes!!
As the say, don't miss the Litchfield Historical Society's 3rd annual Scarecrows in the Meadow returns to the Tapping Reeve Meadow at 82 South St. through Oct. 31, open for visiting every day from dawn to dusk. All of the scarecrows are created by local businesses, non-profits, and families.
(Park & Rec is seeking donations of pre-packaged candy, which can be dropped at Litchfield Town Hall, 74 West St., or the Town Hall Annex, 80 Doyle Road in Bantam.)
Speaking of spooky, the historical society's Stories to Keep You Up at Night – Lantern Tour is sold out for Friday, Oct. 21, but there's a second one scheduled for Tuesday, Oct. 25. Act fast if you want to join in a spooky night of Litchfield's most frightening and gruesome true stories.
The tour starts at the Tapping Reeve Meadow, where guests will enjoy historically inspired cocktails and treats before grabbing lanterns and heading into the darkness to learn about the violent and scandalous side of Litchfield's history.
The event runs from 5:30 to 7 p.m. and the walking tour itself lasts about an hour and covers roughly a mile. The cost is $15 for members and $20 for non-members.
Space is limited and you can register online.  In the event of rain or inclement weather, the program will not be held.
Other Seasonal Events This Weekend

A Celebration of Connecticut Apples at White Memorial
Saturday, Oct 22, at 2 p.m.
Join Russell Powell and Barr Weeks from the New England Apple Association as they weave the delicious story of apple growing in Connecticut. Learn about apple history, their growing cycle, Connecticut's ten most popular apples and some rarer New England varieties. Samples will be available in raw form as well as pie form! You'll be able to vote for your favorite pie and learn some really wonderful things while tasting them! 2:00 P.M., A.B. Ceder Room. Members: $5.00 Non-Members: $10.00 Call 860-567-0857 or register online at www.whitememorialcc.org.
St. Paul's Church  in Bantam is hosting its second musical event this fall to celebrate its founding 225 years ago. This special event on Saturday, Oct. 22, from 4:30 to 6 p.m., is free and open to the public and features Azul Quartet: Janet Jacobson and Sarah Washburn – violins, Eugenio Figueroa – viola, Pablo Issa – cello. Free tickets available on Eventbrite.
Strut Your Mutt on Sunday, Oct. 23.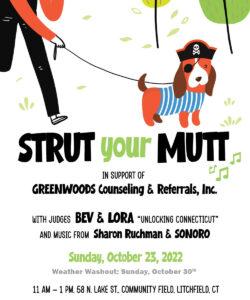 Dog lovers are invited to join Unlocking Connecticut's Bev and Lora for this fun community event at Litchfield Community Field Oct. 23, beginning at 11 a.m.
Register your dog in one of these categories: Precious Puppy, Young At Heart, Large & Loveable, Who Rescued Who?!, Always Awesome, and Best Costume. Prizes will be awarded.
It's going to be a blast and even caught the attention of News 12 Connecticut, which came to Litchfield to film a preview story.
For all the details and registration head here.
Proceeds to benefit the Community Outreach Team of Greenwoods Counseling & Referrals, Inc., to provide mobile addiction and recovery services in Litchfield County.
####
Also don't miss the Litchfield Hills Farm-Fresh Market, currently in its indoor season Saturdays from 10 a.m. to 1 p.m. at the Litchfield Community Center.