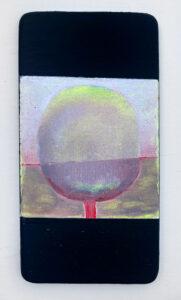 Art lovers have a terrific opportunity this weekend to gallery hop in Litchfield and see exhibits at five venues, catch an artist talk, and attend the preview for the auction of a noted collection of Modern and contemporary art, furniture, and more.
Four of the six experiences can be enjoyed with one-stop parking in Litchfield center, and the other two take cultural voyagers west on Route 202 (passing lots of great places for coffee, tea and a treat along the way.)
Most of the exhibits and galleries are open on Saturday, but Sunday's the day for a mini cultural odyssey with a distinctly Litchfield vibe.
Here's what's happening:
Jennifer Terzian Gallery
This bijoux of a gallery, tucked "underground" on South Street, below @thecorner restaurant, is holding an artist talk event Sunday (Sept. 18) at 3 p.m. with Keely Orgeman, the Seymour H. Knox, Jr., Associate Curator of Modern and Contemporary Art at the Yale University Art Gallery, and artist Julia Rooney, whose show "Screen Shot" is currently on view at the gallery. 
Rooney and Orgeman will discuss the influence digital technology has had on the medium of painting, particularly in the age of social media and through the Covid-19 pandemic, an invite to those on the gallery's email list explained.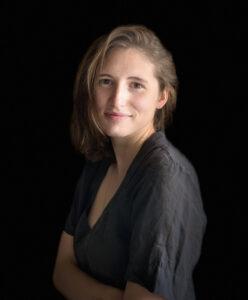 Rooney and Orgeman worked together during the 2021-22 Happy and Bob Doran Connecticut Artist-in-Residence Program organized in collaboration between Artspace New Haven and Yale University Art Gallery. 
On view through Oct. 15, Screen Shot is a solo exhibition comprising two bodies produced a decade apart in 2012 and 2022. Both are titled "I did a series in a very hot August," and they explore our relationship with screens and how our perceptions have been recast in miniature through the devices we carry, and in turn that carry us in their image, according to gallery notes.
Rooney's newest paintings are made on 3×6-inch wooden tiles, painted abstractly and suggestive of smartphones with their rounded edges and thin profiles. Meanwhile, Rooney's 2012 plaster paintings were inspired by a trove of candid screenshots taken by her partner during years of long-distance Skype conversations.
The gallery is generally open by appointment, and those who would like to attend the artist talk are asked to RSVP by email to [email protected].
Litchfield Historical Society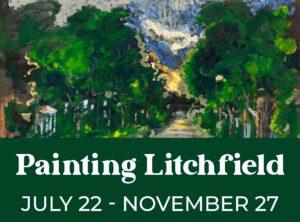 The Litchfield Historical Society and its Litchfield History Museum are presenting the wonderful "Painting Litchfield" exhibit, celebrating Litchfield scenes and artists, through Nov. 27. Admission is free.
"Painting Litchfield" showcases paintings inspired by Litchfield scenes and landscapes from the nineteenth century to the present, the historical society explained in a release, and includes work by one of the earliest artist groups exhibiting in Connecticut, as well as a painter who served in the Monuments Men of World War II fame.
While you're in town, also visit the historical society's Tapping Reeve House and Litchfield Law School, (82 South St.) the first law school in the nation, where admission is also free. Don't forget to relax in the gorgeous Tapping Reeve Meadow in the back.
Oliver Wolcott Library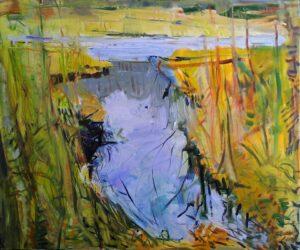 Another exhibit also on South Street may not be obvious to uninitiated Litchfield residents and visitors.
The show of landscape oil paintings by Ann Quackenbos is in the Jamie Gargarin Art Gallery at the Oliver Wolcott Library (OWL), where it remains on view through Oct. 28.
"My paintings are inspired by the landscape of northwestern Connecticut," the artist says. "I try to convey my experience of these wild places and the joy of working freely with oil paint, adding, scraping, and working with what emerges from the paint on the canvas."
Architecture lovers will also want visit OWL, which encompasses the 1799 Oliver Wolcott Jr. House and a 1965/66 Modern addition by Harvard Five architect Eliot Noyes. "His use of modern design combined with the historic nature of the 1799 house remains a testimony to his gift of architectural design," the library says.
Alofft Gallery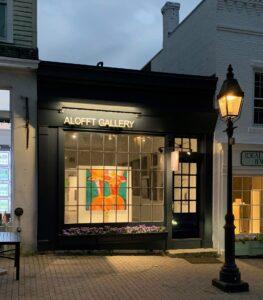 Owners Craig Connolly and Liz Donohue have dreamed of opening an art gallery since they bought their first piece of original art from the Granary Gallery in West Tisbury, the morning after their wedding day. Fast forward 16+ years, a few grad degrees, a couple wonderful kids and 2 puppies later, that dream has come true.
So goes the story on the website of this stylish new gallery across from the Green on West Street in Litchfield center, where you'll find an impeccably curated collection of  contemporary art from artists living and working in New England, New York, and Europe. 
amArtHouse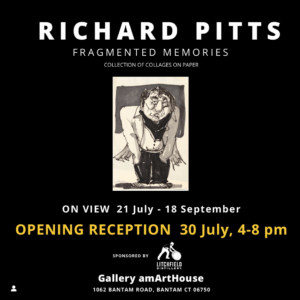 If you've driven along Route 202 west of Bantam center, then you've seen amArtHouse, the fairly new gallery that makes a statement with the bold, colorful sculptures by Richard Pitts on the lawn … and the side of the building.
Located in a restored 1775 Colonial and focusing on contemporary art, amArtHouse is wrapping up two exhibits this weekend, "Fragmented Memories," collages on paper by Pitts, and a collection of sculpture and drawings by Ed Smith.
The Instagram page is the best way to keep an eye on what's happening at amArtHouse, owned and Curated by Artur Matuszewski.
AmArtHouse
1062 Bantam Road
(212)-696-1807
www.amarthouse.com
Saturday 11-5
Sunday 12-4
Litchfield County Auctions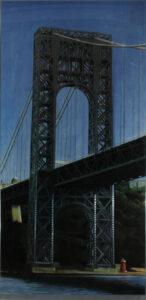 Litchfield County Auctions' September auction features property from the modern collection of John "Parker" Prindle, Jr. of Beacon Hill in Boston, a collector of 20th Century decorative arts, furniture, fine art, and tribal art. (His donations can be seen in the Museum of Fine Arts, Boston, and the Harvard Art Museums.)
The auction, conducted both online and live, takes place in in two parts, Sept. 20 and Sept. 21, beginning at 10 a.m. both days.
Whether or not you want to bid, the auction preview creates an opportunity for another Litchfield "exhibit experience" this weekend. Sunday's preview runs from 12-4, and those in town during the week also have a chance to see the modern and contemporary art, furniture and accessories on  Monday from 10-5.
See Litchfield County Auctions' website for all the details, as well as all the pieces to be auctioned.