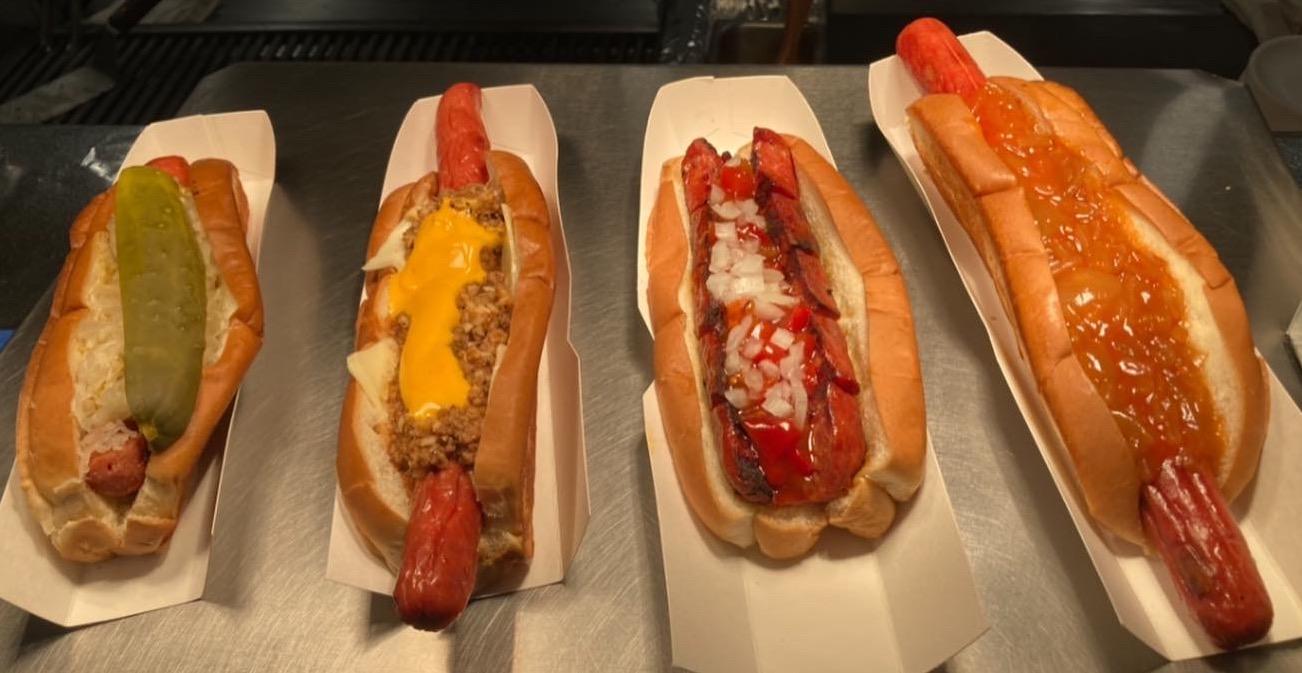 Before we get to some fun and informative things happening this weekend, we need to alert you to some wonderful opportunities on the near horizon.
Best Hot Dog Contest
The second "Dog Days of Summer" Top Dog best hot dog contest, sponsored by the Town of Litchfield's Economic Development Commission, begins next week, July 14, and runs through the 18th.
Those who dine in participating spots enjoy the dogs, scan a QR code on table-topper cards and vote for their favorites. "The wiener" will be announced July 20 at the Litchfield CT Park & Recreation concert on the Green, which also happens to be National Hot Dog Day.
Last year Gooseboro Drive-In LLC. took home the cup. Follow our Facebook and Instagram pages for mouth-watering photos of all the entries, as well as a list of participants and more details.
Free Summer Concerts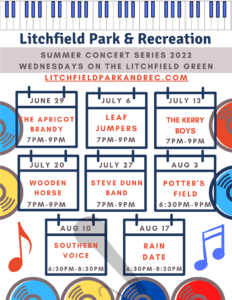 Speaking of the Park & Rec Summer Concert Series, week two was last night (July 7) and the response has been fabulous.
If you missed the initial shows, don't worry. There are still five left and a rain date (Aug. 17) for any shows cancelled by the weather. Shows start at 7 on the Green, and each event features a Business Showcase offering a great deal on food to enjoy picnic-style with the music.
7/13, The Kerry Boys
7/20, Wooden Horse
7/27, Steve Dunn Band
8/3, Potter's Field
8/10, Southern Voice
Terrific New Historical Society Exhibit, Painting Litchfield

The Litchfield Historical Society's new exhibit, Painting Litchfield, opens July 22 and celebrates Litchfield scenes and artists.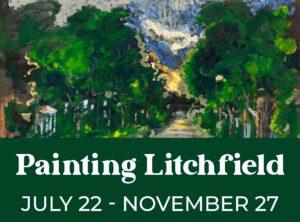 While Litchfield was never home to the kind of formal art colony found in other parts of Connecticut, the town has a rich and lasting connection with the visual arts, a historical society press release explains. 
Painting Litchfield showcases paintings inspired by Litchfield scenes and landscapes from the nineteenth century to the present. Learn about one of the earliest artist groups exhibiting in Connecticut, explore the career of a painter who served in the Monuments Men, and view works by artists living in Litchfield today. 
Painting Litchfield runs from July 22 to Nov. 27, 2022. The public is invited to the opening of the exhibit on Friday, July 22, at 6 p.m. Those who wish to attend should RSVP to Sean Kunic at [email protected] or call 860-567-4501.
The historical society is also holding special programs in conjunction with the exhibit:
Artists of Litchfield Walking Tour – Saturday, July 23 at 10 a.m.
Paintings Litchfield Family Day – Saturday, July 23 from 11 a.m. – 2 p.m.
Our Man in Italy: A Sheldon Pennoyer and the Monuments Men – Tuesday, Aug. 2 at 6 p.m.
Visit www.litchfieldhistoricalsociety.org/calendar for more information and to register!
The Litchfield Historical Society is located at 7 South St. The Litchfield History Museum and the Tapping Reeve House & Law School offer free admission for all courtesy of Ericson Insurance Advisors, LLC. Participate in our shared history.
Now, On to This Weekend
Pollinator Palooza!  A Family Program at White Memorial
Saturday, July 9, 10-11:30 AM
With beautiful flowers blooming comes a parade of pollinators! Join members of the LHAS Education Committee in the Litchfield Garden Club's Pollinator and Rain Gardens beside Ongley Pond at White Memorial Conservation Center. We will be learning about the role of pollinators, some common pollinator species, community conservation efforts, and how to make your lawn more pollinator-friendly. We'll also hike the short trail around Ongley Pond, and have some fun games on the lawn for our younger naturalists! After you finish our program you can explore the center and have a picnic.
What to bring: Snacks/picnic lunch (optional), water, bug repellent, hat and wear comfortable shoes for walking.
Meet in the White Memorial Parking Lot. (Rain cancels). For additional information, contact Marie Kennedy at 914-393-6270 or [email protected] .
Grave Marking for Boston Tea Party Participant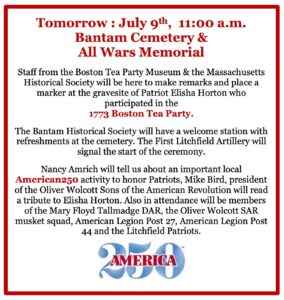 Sat, Jul 9th @ 11:00am
Bantam Cemetery (Route 202)
Staff from the Boston Tea Party Ships & Museum and the Massachusetts Historical Society will be here to place a brass marker at the grave site of Elisha Horton, local Patriot who participated in the 1773 Boston Tea Party. Ceremony will start at the All Wars Memorial, proceed to the grave site and then the Bantam Historical Society will provide light refreshments.
Local organizations participating: Litchfield Patriots, LLC, American Legion Post 44, Bantam, American Legion Post 27, Litchfield, First Litchfield Artillery, Bantam Historical Society, Mary Floyd Tallmadge Daughters of the American Revolution, Oliver Wolcott Sons of the American Revolution, Bantam Cemetery Association, Bantam Historical Society,
Weekly Walking Tour of Litchfield History
The Litchfield Historical Society's weekly walking tours are the perfect way to discover Litchfield's vibrant history and explore the town's celebrated Historic District. Each tour provides visitors with an overview of Litchfield's history – from the stories behind famous landmarks to anecdotes about past residents to appreciation of prominent buildings.
The walk will begin at the Litchfield Historical Society (7 South Street) and lasts approximately 1 hour. Wear comfortable shoes and bring a bottle of water. Walking tours are free for members and $10 for non-members. Register Online.