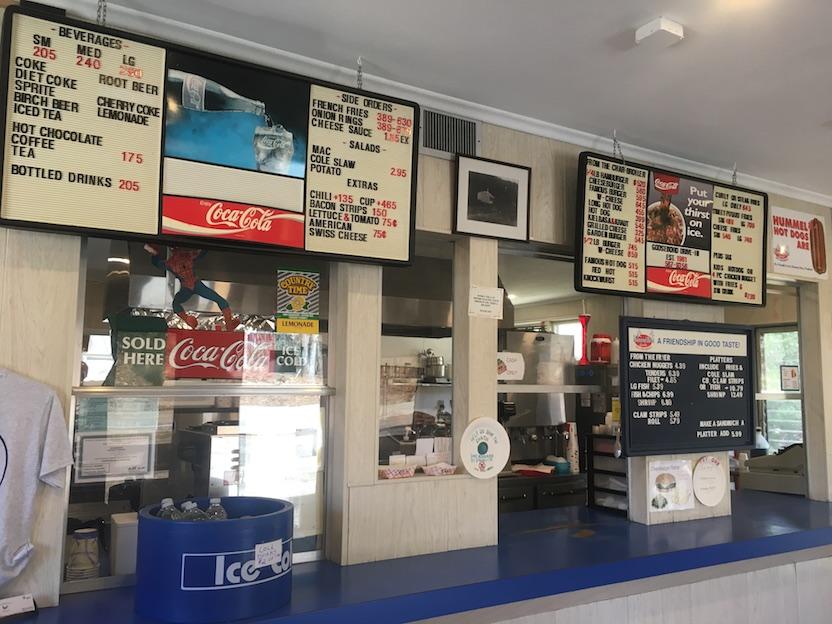 Gooseboro Drive-In, or "The Goose" as longtime fans call it, opened for the season April 12, continuing a tradition of great roadside burgers, hot dogs, shakes, and banana splits that families have enjoyed for six decades.
The Goose, located along Route 202 on the western side of Bantam near Mt. Tom State Park, added to the renown of its Hummel Hot Dogs last summer, winning the Litchfield Economic Development Commission's "Dog Days of Summer" Hot Dog Contest. (Its winning entries are detailed at the bottom).
Those dogs may be a top draw, but so are the burgers, milkshakes, ice cream Sundaes and soft serve, homemade chili, fried seafood, cheese fries and more.
The burgers are shaped by hand with fresh beef from Omaha. "I make them every morning," owner Bill Downes said as he prepped for a sunny Wednesday at the beginning of Gooseboro's 61st year.
Every Wednesday banana splits are the special, followed by Shake It Up Thursdays, when milkshakes are offered at a discount.
Prices across the board are more than fair, but take note that Gooseboro doesn't accept cards. It's cash only.
Gooseboro is open seven days a week until it closes for the season, typically in mid-October. Check the Facebook page and Instagram feed for other specials, and updates on hours. The address is 1293 Bantam Rd.
West Shore Seafood: A "Shack" With Delicious Curb Appeal
The ice went out on Bantam Lake a bit early this year, but it was still cold and wintry feeling when West Shore Seafood, a stone's throw away on Route 209, opened for the season at the end of March.
Spring is a great time to visit, or discover the popular roadside seafood for the first time. It's jammin' all summer and fall, but at the moment there's plenty of elbow room in the dining (heated) tent.
Guests come up from the lake—and from near and far—for the fresh seafood, which can be ordered ahead at 860-567-8000, ordered online, or ordered at the counter when you get there.
The only hard part is deciding from so many great choices: clam chowder, lobster bisque, steamed clams, fried calamari, crab cakes, lobster rolls, fish-and-chips, friend clams, and so much more. There's also burgers, chicken sandwiches, hot dogs, and tacos.
Current hours are Thursday – Saturday: 11am – 3pm, and 4pm – 7pm, and Sunday 12pm – 6pm
There's also a retail store with new shipments daily: Thurs – Sat 11am – 6pm and Sunday 12pm – 5pm.
Call 860-567-8000 to learn more, or check out the website, Facebook page, and Instagram feed
Don't Forget Popey's on the Other Side of Bantam Lake in Morris
Popey's in the center of Morris is another popular roadside stop that's been around for 50 years, serving burgers, hot dogs, ice cream, and lots more. It's open Tuesday – Sunday 11 a.m. – 8 p.m.
Gooseboro's Top Dogs for the
"Dog Days of Summer" Hot Dog Contest
The Famous Hot Dog: A 6-inch Hummel natural casing hot dog topped with our homemade Famous Relish, sauerkraut, and pickle slices.
The Double Cheese Chili Dog: A 10-inch Hummel hot dog topped with our award-winning homemade chili, American cheese, and cheese sauce.
The Red Hot: A Hummel Red Hot hot dog split and grilled to perfection, then topped with sweet red pepper relish and chopped onion.
The New Yorker: A 10-inch, all-beef hot dog topped with New York style "cart sauce."