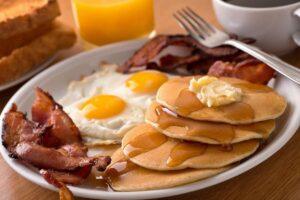 Big Sunday breakfasts as public events that buoy community spirit as they aid good causes are a Litchfield tradition.
This Sunday, Jan. 15, there are two opportunities to enjoy a meal for a great price in a social setting with friends, neighbors and new acquaintances, with a third community breakfast on tap the following weekend.
If you're up early and time it right, you might consider doubling up with an early breakfast in Northfield followed by an early lunch/second breakfast at the American Legion hall.
Northfield Volunteer Fire Company 
From 7:30 to 10:30 a.m., enjoy a made-to-order breakfast at the Northfield Firehouse for just $10 for adults and $5 for children. The firehouse is located at 12 Knife Shop Rd., off Route 254. Watch the Northfield Fire Company's Facebook page for updates or changes.
Morgan-Weir Post 27 American Legion
The first breakfast of the year at Post 27 is buffet style and takes place this Sunday from 8 a.m. to noon with a suggested donation of $12 per person. Dine at the post or get breakfast to go. Mimosas and Bloody Mary's are also available. Watch the Facebook page for updates or changes, or call 860-567-9930 with questions. The Legion Hall is located at 418 Bantam Rd.
Breakfast to Benefit the Class of 2023
On Sunday, Jan. 22, a big Sunday breakfast takes place from 8 a.m. to noon at the Litchfield Community Center to benefit the Litchfield High School Class of 2023. Pancakes, bacon, eggs and more for $10 per person, $5 for those younger than 12 or older than 70.