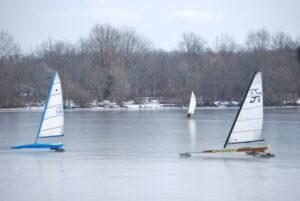 The Connecticut Ice Yacht Club has called Bantam Lake its winter home since being founded in 1939 and when the lake ices over club members fly across the ice in their sleek iceboats at speeds that can exceed 60 miles per hour and even hit 80.
Unless there's no ice.
"We should have driven out to Wisconsin last week," Commodore Tony Bosco of Harwinton said Jan. 18 referring to competitions held out West. "Right now there isn't any ice anywhere."
The Club, with roughly 50 active members, is headquartered at White Memorial's Point Folly Marina and Boat Launch,  located at 123 North Shore Road in Litchfield. When the ice is in, the boats perch on the frozen surface in a cluster in the cove next to the Point Folly Family Campground and across from the camp store.
Anyone who wants to watch the action on the ice can park in the lot next the camp store or in the parking area at the entrance to the campground, located on a peninsula extending into the lake. In non-camping seasons, the campground's dirt access road becomes a loop trail for those who want to enjoy a lovely walk.
With open water across the lake (as of Jan. 18) and the temperatures forecast for the rest of January, it doesn't appear there will be iceboating anytime soon. There have been years when conditions never came together, including at least one season in the last 10 years.
"If we get a couple of cold nights, we could get ice in about five or six days but who knows when it's coming," Bosco said hopefully.
Follow @VisitLitchfieldCT on Facebook and on Instagram. We're watching the ice every day, and the iceboats waiting expectantly in the camp store parking lot, and we'll let you know the moment the boats are on the ice and the action begins.
If you're looking for the Commodore on the ice, his iceboat is the large one with the distinctive American flag motif.
And if you want to read an account of one winter season many years ago, check out this 1991 New York Times story on Bantam Lake ice sailing.