Winter months get a bad rap when it comes to going out and having fun unless you love skiing, skating and other activities that depend on cold and snow. There's even a National Nothing Day, which falls on Jan. 16 this year.
We don't get it. January is like every other month in Litchfield; everything's open, lots of interesting things are happening, and a snowy landscape or having to bundle up against the cold only add context that deepens experiences. In that spirit, here's a list of 15 great things to enjoy in Litchfield this January.
Litchfield Distillery Tour & Tasting
Litchfield Distillery offers complimentary tours and sample tastings of its award-winning spirits, arranged by reservation on the website. That said, walk-ins are also welcomed if a timeslot isn't full. Tours are offered on the hour (Mon-Sun) beginning at 11 a.m. The last tour begins at 4 p.m. (except Sunday when the last tour begins at 3 p.m.). See the website for details and the link to reserve. For questions, call us at 860-361-6503. Visit the Facebook page for announcements and weather-related closures.
Visit Haight-Brown Vineyard
Haight-Brown Vineyard has new owners who recently released their first wines and also recently welcomed James Beard honoree Chef Patrick Wilson to the team. Guests can also enjoy craft cocktails and craft beers with the growing and evolving food menu in the gorgeous setting at 29 Chestnut Hill Rd. (Haight-Brown Vineyard was even open on New Year's Day!) See the website to plan a visit, or call 860-361-6969 with questions.
Ice Skating on the Municipal Rink
The public skating rink behind the Litchfield Town Hall is open for the season, attracting hockey players, skaters and even puppies. The town invites families and friends to enjoy the ice this winter. Town hall is located at 74 West St. Guests park behind the building and the rink is just behind the parking lot.
Watch the Ice Boats on Bantam Lake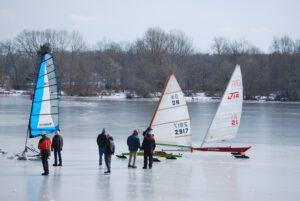 Connecticut Ice Yacht Club members have made the Point Folly Marina and Boat Launch at The White Memorial Conservation Center their winter home base for nearly a half-century. As soon as Bantam Lake freezes with ice thick enough for sailing, you can find the ice yachts flying across the surface on weekends and also some weekdays. Park at the entrance to the Point Folly campground, or at the camp store, both on North Shore Road, to watch the action.
Enjoy/Discover Bantam Cinema & Arts Center

The revived Bantam Cinema is showing first run movies, including "Babylon," "The Fablemans," and "A Man Called Otto" in January, as part of a hometown lifestyle experience. In addition to freshly popped popcorn, with or without real butter, moviegoers can enjoy beverages that include Foxon Park sodas, Harney & Sons teas, Krafted Brew Lab coffee, Kent Falls craft beers in 16 oz. cans, Litchfield Distillery ready-to-drink cocktails, and even wines by the glass. See the website for movie times and more information.
Litchfield Hills Farm Fresh Market
The Litchfield Hills Farm-Fresh Market isn't just a summer affair. After its outdoor run across from Center School from mid-June to mid-October, the market moves indoors at the Litchfield Community Center from 10 a.m. to 1 p.m. every other Saturday from now into June. It's the place to go for fresh local products and to meet friends and neighbors. This month's markets are the 7th and 21st. Watch the Facebook page for info and updates.
Knit Nights: Social Knitting Group with Alexandra Herst
There's a new weekly knitting & crafting social meetup at the Litchfield Historical Society where participants can meet other knitters, get questions answered about tricky patterns, and expand their knowledge. It takes place on Tuesdays at 7 p.m. and is hosted by Alexandra Herst, a local knitting & crafting enthusiast. Head online to register, or just stop by.
Exploring the Lake and Butternut Brook Trails
The Jan. 14 guided hike with Gerri Griswold, Director of Administration and Development for White Memorial, will highlight the Lake and Butternut Brook trails adjacent to the conservation center. "Witness a spectacular view of Bantam Lake from atop the Ice House ruins, then continue along the foot print of the old Berkshire Ice House. The Butternut Brook Trail may reveal the handiwork of beavers, one of nature's most accomplished architects," the event listing says. The hike is free and runs from 10 to 11:30 a.m. and guests should meet in front of the A. B. Ceder Room.


Fire & Ice Family Funfest
The popular and free Fire & Ice Family Funfest returns to the Litchfield Community Centre Jan. 14, from 1 to 4 p.m., and features ice sculptor games, winter hay rides, crafts, food, family fun, fireside storytelling, fire pits and much more. Participating organizations include the OWL Library, Litchfield Historical Society, Litchfield Lions Club, Litchfield Boy Scouts and Girl Scouts, Bunnell Farm and others. Register online.
Hootenanny at Litchfield Community Center
The Hootenanny concert Jan. 28 at Litchfield Community Center features the bands Dim Lights Thick Smoke and Wires & Wood. It's a BYOB event, which also means bring your own dinner. Doors open 6:30 and the music starts at 7 p.m. Tickets are $20 per person. Register online.
Go Shopping 'Underground'  
We're not talking caves or caverns but Litchfield is home to shops and galleries with a subterranean cachet. Primarily we're talking about the row of resources located underneath At the Corner restaurant on South Street, including Hope & Honey Boutique, Jennifer Terzian Gallery, iChing Antiques, and Braeval clothing. Across the Green in the basement of the First Congregational Church, the FCC Bookstore offers thousands of gently read books in all genres. Visit them as a group for a unique Litchfield experience.
Litchfield County Auctions
Lovers of art, antiques and design should check out the January sales at Litchfield County Auctions, which include The Prindle Collection – Session 5 on Jan. 24, and The Collection of Seymour Stein on Jan. 25. Those are just two of many upcoming auctions that will be full of great finds.
Stone In The Garden With Andrew Pighills
The Oliver Wolcott Library welcomes back Andrew Pighills in a live and Zoom evening of garden inspiration Jan. 19. Pighills will inspire creativity as he illustrates where to place stone in the garden and discusses the best materials to use when creating contrast or harmony. He explores the placement of patios, steps and paths, stone mosaics, follies, benches, seats and other whimsies that enhance the garden for the enjoyment of all. Transplanted from Yorkshire, England, Pighills is passionate about his English garden heritage and the art of creating stone structures. The presentation runs from 7 to 8 pm. Those planning to attend live should register here. For a Zoom link, click here at 7 p.m. on Jan. 19.
The Battle Of The Bulge With Oral Historian Aaron Elson

Join Oral Historian Aarom Elson as he shares oral histories from veterans who served in The Battle of the Bulge in an Oliver Wolcott Library live and Zoom event Jan. 25 from 2 to 3 p.m. On Dec. 16, 1944, the German military launched the Battle of the Bulge and by early January 1945, the German military effort had failed. Elson preserves and shares the oral histories of WWII veterans and has recorded more than 700 hours of interviews and conversations with men and women of the Greatest Generation. To attend live, register here. Zoom participants may click here at 2 p.m. on Jan. 25 to join the event.
Shop and Dine in Litchfield Center & Bantam
It may be winter, but the shopping and dining in Litchfield center and Bantam remain vibrant. To connect with shops and restaurants, as well as sales and specials, see the shopping and dining pages on our Visit Litchfield CT website, which provide links to the websites and social media accounts of all your favorite places … and the ones you haven't discovered yet.