The Litchfield Park & Recreation Summer Concert Series may have wrapped up the 2022 season Wednesday evening, but if anything the rhythm of the beat is getting stronger—at least on the weekend calendar.
Alpaca Gnomes at the Litchfield Community Center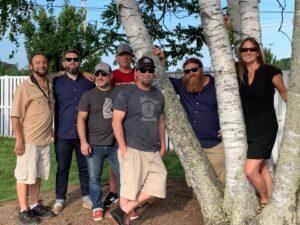 "You do not want to miss this!" the Litchfield Community Center declares of its Friday, Aug. 12, concert featuring the Alpaca Gnomes, voted Best Musical Band in Connecticut Magazine's readers' choice poll.
The Gnomes are an original seven-piece folk/rock band that incorporates many musical styles in its lyrically driven original songs. (Their set lists mix in some Grateful Dead and Charlie Daniels Band covers, too.)
Grounds open at 6 and the music starts at 7.  Woodbury Brewing Company will be there, along with Bills Mobile Brick Oven pizza. Guests should bring their own chairs and blankets.
Tickets are $20 per adult, $5 per child 12 and under.
Registration is online here: https://thecommunitycenter.org/event.php?id=14168
Podunk Bluegrass Festival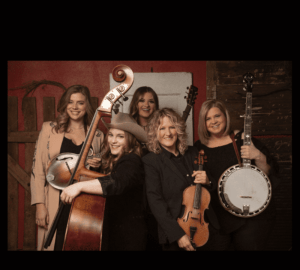 The 25th anniversary Podunk Bluegrass Festival takes place Aug. 11-14 just up Route 63 at the Goshen Fairgrounds.
It features more than a dozen performers, including Dan Tyminski, the Jerry Douglas Band and Sister Sadie on the main stage, and performers on two other stages. There's also a kid's academy, a Telefunken Bank Competition, vendors, workshops, and even camping for guests.
Ticket prices vary and they can be purchased online here: https://podunkbluegrass.com/product-category/2022-podunk-festival-tickets/
Vetfest at American Legion Post 27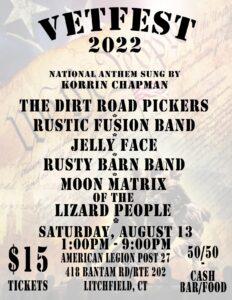 Vetfest 2022, which takes place at American Legion Post 27  on Saturdaym features five bands and runs from 1 p.m. to 9 p.m.
The show opens with The Dirt Road Pickers, playing a mix of music from the 60s, 70s, 80s, and beyond, followed by the Rustic Fusion Band, performing Country music and Blues, with some Eagles and Bob Dylan, and eventually wraps with Moon Matrix of the Lizard People, playing Rock 'n' Roll with a side of jams.
Tickets are $15 and there's a cash bar and food.
And There's More Music Next Week!
The musical theme extends into next week with the third installment of the Summer Singer Songwriter Series at Bantam Cinema & Arts Center, and a free jazz concert at the Litchfield Community Center.
Midnight Anthem and Ian Campbell at Bantam Cinema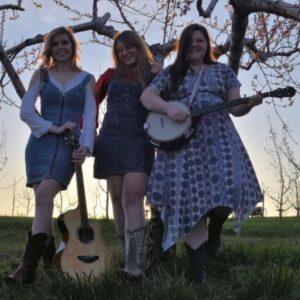 The Midnight Anthem (TMA) is a musical trio  made up of cousins Catherine, Sophia & Grace, who create music that is both fun to listen to and touches the soul. They play an eclectic blend of covers and originals, and their music can be described as Country, Rock & everything in between.
Ian Campbell grew up in Connecticut and is a full-time traveling singer/songwriter, as well as a former Connecticut State Troubadour.
The performances are 7-9 p.m. at Bantam Cinema & Arts Center. Tickets are $20. Head to the website for all the details: https://www.bantamcinema.org/movie/midnight-anthem-and-ian-campbell
Jazz at the Community Center
The Litchfield Community Center's Jazz Up Your Day concert series continues Aug. 17 with the Starcats Trio. The free concert begins at 10 a.m. and pre-registration is requested. For details and to register: https://thecommunitycenter.org/event.php?id=14371
Also This Weekend Don't Forget …
… Topsmead Cottage Tours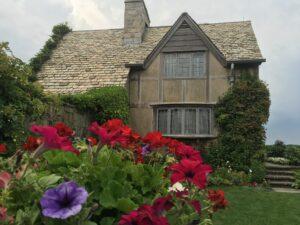 Make plans to enjoy/discover/walk the trails at Topsmead this weekend and you can also tour the cottage.
Through the great efforts of @friendsoftopsmead, the cottage is open for tours on the second and fourth weekend of each month, June through Columbus/Indigenous People's Day in October. 
All tours are first-come, first-served and take place on the hour and half hour from noon through 4:30 p.m. They last approximately 45 minutes. Meet at the front door to the Chase Cottage. There's a maximum of 8 guests per tour group. Oh, and the tours are free.
… Litchfield Historical Society Walking Tours
The Litchfield Historical Society's weekly Saturday walking tour (1-2 p.m.) is a perfect way to discover the town's history and explore the Historic District – from the stories behind famous landmarks to anecdotes about past residents to appreciation of prominent buildings. The walks begin at the Litchfield Historical Society (7 South Street) and last approximately an hour. Wear comfortable shoes and bring a bottle of water. Walking tours are free for members and $10 for non-members. Register Online
… And at White Memorial
This weekend is for learning all about beavers! This Saturday we have a 6am Beaver Talk and Walk with
Gerri Griswold
, followed by a virtual program at Noon with Dr. Christopher B. Anderson titled "Biological Invasions at the Uttermost Ends of the Earth: The Case of North American Beavers in Southern Patagonia" Sign up in the links below!!