Melissa Cole of WFSB – Channel 3 Eyewitness News came to Litchfield Wednesday morning to film a story on Litchfield Restaurant Week.
Her story will air March 24 on Great Day Connecticut to launch the town's first-ever Restaurant Week, running from March 24-31 and sponsored by the Town of Litchfield CT Economic Development Commission.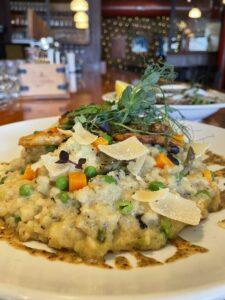 Cole met with EDC Chairman Will Neary and member Tara-Marie Lynch Bares for filming that took place At The Corner, a Restaurant Week participant. Chef Red presented some dishes from ATC's Restaurant Week menu, including a Spring Risotto (shown at right) and an apple strudel dessert.
See our RW page for more details and menus as they come in.
Other RW participants include:
The Village Restaurant In Litchfield Ct
Bohemian Pizza and Tacos
Materia Ristorante
Love Heart's Bakery and Cafe
Petraroia Deli
Market Place Tavern at The Old Litchfield Jail
Mockingbird Kitchen & Bar
Meraki
Saltwater Grille
Wood's Pit BBQ
Ollie's Pizza
Haight-Brown Vineyard
Clubhouse Provisions Stonybrook Golf
The Dutch Epicure Shop
Hometown Pizza of Litchfield
Patty's Restaurant
West Street Grill
And Litchfield Distillery is partnering with restaurants that will be offering special RW cocktails, so make sure to ask your server.