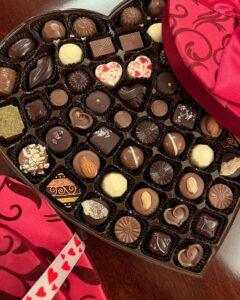 Flowers, chocolate, wine, and a dinner at a fine restaurant. These are the classic ingredients for Valentine's Day romance, and they're classic because they deliver on their promise year after year.
Litchfield has you covered on all fronts in fine style. See our Visit Litchfield CT Shopping page for the flowers, our Chocolate & Ice Cream page for the chocolates, and the Gourmet Shops & Provisions page for the wine and more.
To book dinner at a fine restaurant, head to our Restaurants page and follow the quick and easy links to social media pages where Valentine's Day menus are being posted.
This post is aimed more at non-traditionalists and those who resist the implied directive to celebrate the official holiday of love on a weeknight because that's where the date chosen by a pope falls most years.
(The last time Valentine's Day fell on a Saturday was 2015 and that won't happen again until 2026, and as for the pope, it was Pope Gelasius I who established the Feast of Saint Valentine in AD 496 and tethered it to Feb. 14.)
Before digging in, a caveat: Take loved ones out for dinner on Feb. 14 if you can. Our restaurants just brought home a whole bunch of top dining awards, regionally and statewide, and they work up pretty magical Valentine's Day menus.
Whether or not you go out, here are five recommendations for V-Day romance with a twist—we're thinking Saturday or Sunday, or even Tuesday during the day when it will be 55 degrees—followed by a sampling of related special events.
Walk in the Woods

Miss Edith's cottage at Topsmead in the summer.

We think it's the most romantic thing you can do in Litchfield. White Memorial is an obvious choice for a venue, and Topsmead State Forest, with its English-style cottage, exudes romance. Wherever you walk (check our Outdoors page for more resources), pair it with pitstops at bakeries and coffee shops and perhaps lunch, too.

Shopping Surprise

Come to Litchfield with your sweetheart and explore the shops that most appeal to your special someone. That's romantic enough, but we suggest sealing the deal by observing what your date loves the most and then creating whatever subterfuge necessary to secretly buy that item and present it as a V-Day gift during cozy time at home that evening.


Sweet Litchfield Tour

Start with a sweet breakfast one of our scratch bakeries; we're thinking of cinnamon buns, muffins, scones and more + fine coffee or tea. While you're in town, visit the old-fashioned Litchfield Candy Company, and then take a drive north on Route 63 to experience Milk House Chocolates at Thorncrest Farm.


Haight-Brown Vineyard

The invite on the website of Connecticut's oldest farm winery is a Valentine in itself: Visit our bar room for wine and cocktail flights, wine, cocktails and beers by the glass, wines by the bottle. Order crab cakes, short rib sliders or our famous house charcuterie from our Café menu! Head outside to our deck and enjoy picturesque views of the vineyard! In the winter, cozy up by the fire with a mug of warm spiced wine! See the website to connect.

 

Litchfield Distillery Visit



Litchfield Distillery offers complimentary tours and sample tastings of its award-winning spirits, arranged by reservation on the website. Walk-ins are also welcomed if a timeslot isn't full. Tours are offered on the hour (Mon-Sun) beginning at 11 a.m. The last tour begins at 4 p.m. (except Sunday when the last tour begins at 3 p.m.). See the website for details and the link to reserve. For questions, call us at 860-361-6503. Visit the Facebook page for updates. Oh, you're wondering why a distillery tour and tasting is romantic. Consider the tasting notes on the Double Gold Medal-winning Straight Bourbon Whiskey:
Nose: Hints of vanilla and butterscotch are complemented by a nice balance of apple, cinnamon, and baking bread.
Palate: Spicy and a little sweet with nice notes of rich tobacco and toasted baking spice; a hint of apple.
Finish: Full mouthfeel with heat in the back palate. Extremely long, spicy finish with a hint of citrus.
Valentine's Day Events