We're taking a different approach with this week's roundup of great weekend activities.
Things we would naturally highlight are still here as a list at the end, but we're leading off with six discoveries Litchfield visitors and residents might not make as they trace the same routes around town and stick to familiar itineraries.
Call them "hidden gems," if you will, or maybe they're already known and cherished. Whatever the status, connect and enjoy!
Lourdes of Litchfield Grotto, Café and Gift Shop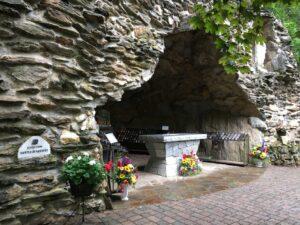 The Shrine of Lourdes in Litchfield is a replica of the grotto at the Lourdes Sanctuaire in France built of local fieldstone by Montfort Brothers and seminarians. It was dedicated in 1958.
While the Montfort Missionaries developed the Shrine so that individuals, families and groups could come to pray, and outdoor Mass is held at the grotto on Sundays from May into October, Lourdes of Litchfield also exudes the type of warmth that welcomes more secular-focused visits.
The grounds, open year-round from dawn to dusk, are beautiful. There's a charming gift shop open Tuesday through Saturday from 10:30 a.m. to 4:30 p.m. and Sunday from 12:30 to 4:30 p.m.
And there's even a Grotto Café open from 10 a.m. to 2 p.m. on Thursday, Saturday, and Sunday, serving homemade soups, lunch fare, and specials.
For the faithful, there's the Way of the Cross that winds up a wooded hillside to a Calvary Scene, as well as paths leading to smaller shrines of the Sacred Heart, St. Joseph, St. Jude, St. Michael, and St. Louis de Montfort.
See the website to learn more and follow Lourdes of Litchfield on Facebook for the latest updates.
The Labyrinth at Wisdom House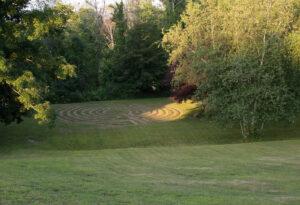 The mission at Wisdom House Retreat and Conference Center is to provide a welcoming space for folks from all walks of life and spiritual traditions to find solace, support, motivation and enlightenment.
One element in that journey that can be accessed anytime during daylight hours is the classical 7-circuit labyrinth on the Wisdom House campus. 
"The path of the labyrinth is like the path of life – twisting and turning, experiencing feelings of being lost and of arrival, navigating the path alone but present with others," Wisdom House says online. "Walking the labyrinth is an opportunity to take a break from one's busy world, to move your body in silence, to reflect on your life in its pure essence as it interacts with the earth. There are no right ways to walk a labyrinth – each individual makes their own way."
Wisdom House is located at 229 East Litchfield Road. See the website to learn more.
Boyd's Woods Audubon Sanctuary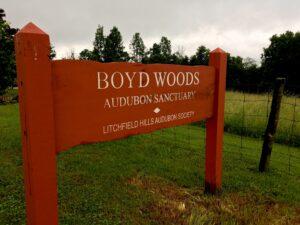 The Boyd Woods Aububon Sanctuary of the Litchfield Hills Audubon Society LHAS is just a passing blur to the traffic speeding along Route 254 between East Litchfield and Thomaston—but it's worth slowing down to make a discovery.
The 106-acre sanctuary features more than four miles of trails, including a lovely walk along Wigwam Brook. There are benches positioned in key spots throughout for lingering, as well a bird blind at the "Plash" near the entrance. Info and trail map: https://lhasct.org/boyd-woods-sanctuary.html
Knife Shop Falls in Northfield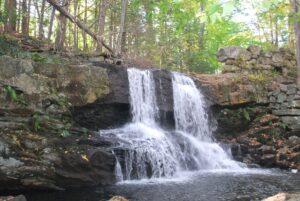 Knife Shop Falls, off Route 254 in the Northfield section of Litchfield, is another great discovery that takes a bit of focus to find. The two-part falls are hidden, there's no sign, and access isn't obvious.
If you park in the pull-off at the end of Northfield Pond, at the intersection of Knife Shop Road and Newtown Rd., you can walk down and access overgrown trails that quickly bring you to the gorgeous falls and ruins of the knife shop factory.
The falls and a large region behind the pond are part of Humaston Brook State Park, so it's state land and open to visitors, though the park itself doesn't have any obvious access points.
Bantam Arts Factory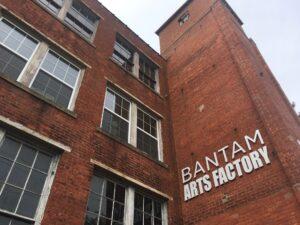 This one takes a bit of a leap of faith.
The former switch factory nestled against Bantam River at 931 Bantam Rd. (Route 202) is filled with stylish spaces that exude an industrial design vibe and house wonderful ventures like Dumais Made, a pottery studio specializing in handmade lamps and accessories, and the florist Bantam Blooms.
There are artist's studios and a gallery in the midst of a transformation … and more; it's just that there's no easy and convenient place to get a list of the creatives who want you to stop by and discover them. Parking is also a bit of a challenge, and all of that qualifies the Bantam Arts Factory for "hidden gem" status. Take the leap and discover.
The FCC Bookstore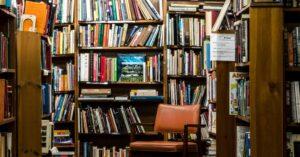 Many people don't realize Litchfield has a bookshop that adds another dimension to shopping in the center of town. The FCC Bookstore in the basement of the First Congregational Church offers gently-used hardcovers and paperbacks, recorded books, CDs, and DVDs, with proceeds going to charity and church missions.
You enter through the east side porch door, facing Torrington Road (Route 202). It's open weekends (10 a.m. to 3 p.m. Saturday and noon to 3 p.m. Sunday).
For more info, see the website and follow the Facebook page for the latest updates.
Other terrific things for the June 24-26 agenda:
Fri, Jun 24th @ 8:00pm
White Memorial Conservation Center
Star Party. Members of the Litchfield Hills Amateur Astronomy Club and the Mattatuck Astronomical Society organize this astronomy program. Weather permitting; there will be star gazing after the program. MASKS ARE REQUIRED IN THE CEDER ROOM. 8:00 P.M., A.B. Ceder Room. Children under 16 must be accompanied by an adult. You are invited to bring your own telescope or binoculars. FREE… Donations will be accepted to help defray the Conservation Center's programming expenses.
Sat, Jun 25th and Sun., June 26 @ 12 to 4:30 p.m.
Tours of Miss Edith Morton Chase's cottage at Topsmead State Forest will be offered Saturday and Sunday the 2nd and 4th weekends of June, July, August, and September concluding October 9. Tours of the downstairs rooms begin at noon and begin on the hour and half-hour until the last tour at 4:30pm. Questions? Email us at www.friendsoftopsmead.org
Sat, Jun 25th @ 1:00pm
7 South Street
$10
The Litchfield Historical Society's weekly walking tours are the perfect way to discover Litchfield's vibrant history and explore the town's celebrated Historic District. Each tour provides visitors with an overview of Litchfield's history – from the stories behind famous landmarks to anecdotes about past residents to appreciation of prominent buildings. The walk will begin at the Litchfield Historical Society (7 South Street) and lasts approximately 1 hour. Wear comfortable shoes and bring a bottle of water. Walking tours are free for members and $10 for non-members. Register Online
Sun, Jun 26th @ 12:30pm
421 Bantam Road
Litchfield Community Center is hosting our first ever Pet-PAWTY
Enjoy some unFURgettable fun and treats for everyone!
Admission is FREE, Donations are welcome! Special Note: Pets must keep their owners on a leash and be watchful of their manners at all times. Thank you!