HOLIDAY STROLL UPDATE: The rainy weather Nov. 27 prompted Litchfield officials to postpone the Holiday Stroll, which now takes place Sunday, Dec. 4, beginning at 2:30. The holiday tree was lit on the 27th.
Details for Litchfield's annual Holiday Stroll were announced Nov. 16, making clear that this year's event promises to be absolutely wonderful.
In fact, post-pandemic enthusiasm has added renewed sparkle to the long Thanksgiving holiday weekend that also features the Oliver Wolcott Library's Festival of Trees and an energized and expanded Shop Small Weekend with a distinctly hometown spirit.
Holiday Stroll and Light-Up the Night
The Town of Litchfield CT's fun and festive Annual Holiday Stroll and Light-Up the Night returns Sunday, Nov. 27, with activities starting at 2:30 p.m. and culminating with the lighting of the tree on the Center Green at dusk.
In addition to meeting Santa and receiving a special gift, families can enjoy a letter-to-Santa table sponsored by the Litchfield Housing Trust, a hot chocolate table manned by Patty's Restaurant, an ice sculpture carving demonstration by Ice Matters, holiday story readings at Litchfield Volunteer Ambulance, cookie decorating at the First Congregational Church, ornament making at the Litchfield Historical Society, carriage rides by Bunnell Farm, a petting zoo by the Wamogo FFA, and more.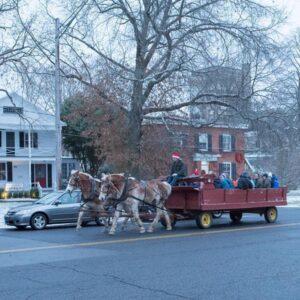 There will also be a Connecticut State Police Toys For Tots collection area, as well as giveaways from The Silly Sprout, Little-ish and Milton Market CT, Ollie's Pizza and CP Farmhouse, Petraroia Deli, and Blueprint CT Kitchen.
Caroling begins at 4 p.m. in front of Espresso59, and the lighting of the tree with Santa should take place about 5:30 p.m.
All are welcome, not just Litchfield residents.See you there!
Festival of Trees and A Week of Wonder
The Oliver Wolcott Library Festival of Trees gala fundraiser takes place Nov. 26, from 5 to 8:30 p.m., and also serves to launch A Week of Wonder, the online auction.
Listen to a Preview with Library Director
Ann Marie White on Our Instagram Feed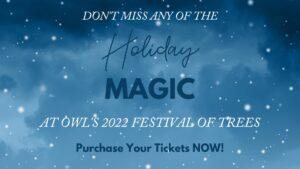 Festival of Trees tickets are $85 per person and the evening includes an open bar, hors d'oeuvres, wreaths and trees, and wonderful company. All proceeds support the library's services and programs.
Head to the website to purchase tickets and watch OWL's Facebook page for any updates.
In conjunction with the festival of trees, OWL is holding its 3rd Annual Week of Wonder Online Auction from Nov. 26 to Dec. 3, which features "fabulous items and one of a kind experiences for you to bid on, generously donated by businesses and residents of Litchfield County, CT." Funds raised support the library's programs and services.
Here's how it works: You pre-register your card to begin online bidding at 5 p.m. on Saturday, Nov. 26 (when the Festival of Trees begins). Before then, preview the auction items online, and check back often as new items are added daily. (We just scrolled through and the auction items are fabulous.)
Shop Small Weekend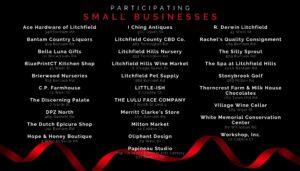 Retail shops and boutiques in and near Litchfield are participating in Shop Small Weekend from Black Friday (Nov. 25) through Cyber Monday (Nov. 28), an extended version of Small Business Saturday sponsored by American Express.
When you shop at your favorite participating retail shops in Litchfield over the long holiday weekend, you can collect stamps on a special Shop Small® Passport for a chance to win a gift basket full of local goods.
Pick up your Passport at any participating retail store over the holiday weekend between (Nov. 25-28) to get started. You may collect one stamp at each participating business with a purchase. The more businesses you shop at, the more raffles you get to enter!
Remember to stop in a local restaurant or cafe while you're out shopping. Show your receipt from a local restaurant or cafe earned during Shop Small® Weekend when you return your Passport for an extra stamp.
Completed passports must be dropped off at The Spa at Litchfield Hills (The Spa at Litchfield Hills), the 2022 Shop Small® Ambassador, located at 407A Bantam Rd. by 7 p.m. on November 29th to be entered into the raffles. Raffle winners will be drawn Nov. 30 and contacted via phone.
Notes on This Weekend:
The Prime Time House seasonal pop-up shop, Prime Finds Home for the Holidays, is a holiday tradition in Litchfield. The 2022 shop makes its debut Saturday at this year's location at Lourdes in Litchfield, A Ministry of the Montfort Missionaries. Details are here.
Pick up what you need for a great Thanksgiving table at the Litchfield Hills Farm-Fresh Market this Saturday, from 10 a.m. to 1 p.m. at the Litchfield Community Center. A great group of vendors offers goods and produce from local farmers and makers. "Fresh, delicious & nutritious. Beautiful gifts too!" See the list of vendors here.
Help the Ripley Waterfowl Conservancy celebrate the close of the 2022 season Saturday with self-guided tours and aviculturists on hand to answer questions. Enjoy a fire, spiced cider, hot cocoa, and fellow bird lovers, as you walk through the aviaries to wish the birds well before winter settles in!
Then at 2:30 p.m., as a very special feature, master falconer, Brian Bradley of "Sky Hunters in Flight" will be bringing his birds to Ripley to demonstrate the special powers of raptors, and how these avian athletes play an important role in our environment, positioned at the top of the food chain. Discover their amazing adaptations for survival in the wild, and hear about the ancient sport of falconry and its training techniques. See these powerful creatures up-close and in action, in an exciting, and informative program for all ages.
The cost is $25 for members and $30 for non-members; $10 for ages 4-14.
The Northfield Firehouse is having its monthly breakfast this Sunday (November 20th) from 7:30 – 11 a.m. The cost for adults is $10, and $5 for children. The menu includes pancakes, French toast, eggs to order, bacon, sausage and home fries. Details are here.
Planning Ahead:
Mark your calendar for a great event coming up Dec. 3 at the Litchfield Historical Society, and make sure to visit the terrific "Painting Litchfield" exhibit before the museum closes for the winter Nov. 27 to get in the spirit for the "Talent!" evening. All the details and registration are here.