With Halloween done and dusted, Litchfield is seamlessly segueing into the holiday season, full of sparkle, promise and joy, as well as festive events that welcome winter, stimulate shoppers, and count down to Christmas.
Thanksgiving weekend is prime time and star billing goes to the Oliver Wolcott Library's Festival of Trees and the town's Holiday Stroll & Tree Lighting on the Green, but there's lots more happening with a distinctly holiday flavor.
Let's cover the marquee events first, and then read on for more great opportunities.
OWL Festival of Trees & Online Auction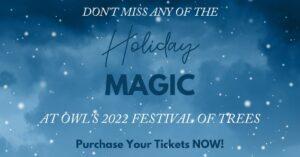 There's heightened excitement at the Oliver Wolcott Library this year because the annual Festival of Trees celebration and fund-raiser returns as a live, in-person event on Nov. 26, from 5 to 8:30 p.m.
Tickets are $85 per person and the evening includes an open bar, hors d'oeuvres, wreaths and trees, and wonderful company. All proceeds support the library's services and programs.
Head to the website to purchase tickets and watch OWL's Facebook page for any updates.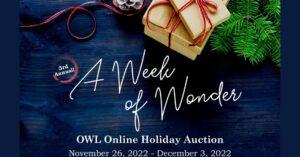 In conjunction with the festival of trees, OWL is holding its 3rd Annual Week of Wonder Online Auction from Nov. 26 to Dec. 3, which features "fabulous items and one of a kind experiences for you to bid on, generously donated by businesses and residents of Litchfield County, CT." Funds raised support the library's programs and services.
Here's how it works: You pre-register your card to begin online bidding at 5 p.m. on Saturday, Nov. 26 (when the Festival of Trees begins). Before then, preview the auction items online, and check back often as new items are added daily. (We just scrolled through and the auction items are fabulous.)
Holiday Stroll & Tree Lighting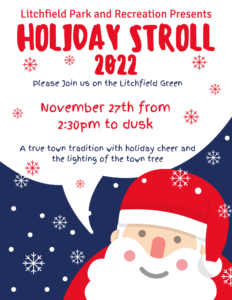 The town's annual event to officially welcome the holiday season takes place Sunday, Nov. 27, on and around the Green in Litchfield center, beginning at 2:30 p.m. and running through 5:15 when the switch is flipped and the holiday tree on the Green lights up.
Details are still being worked out for this year's festival, but typically all the shops in the town center are open and celebrating, there are horse-drawn carriage rides to delight the children, Santa attends, of course, and the Litchfield Historical Society offers a hands-on activity for children and families. To learn more or join the festivities by donating, call the office of First Selectwoman Denise Raap at 860.567.7550, and follow Parks & Rec on Facebook and on Instagram for updates.
Shop Small Weekend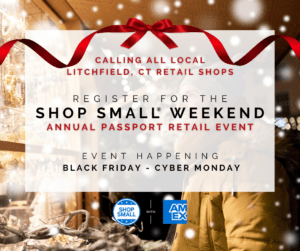 Shop Small Weekend, an extended version of Small Business Saturday sponsored by American Express, coincides with the Festival of Trees and Holiday Stroll weekend.
An invite just went out for retail shops and boutiques in and near Litchfield to participate from Black Friday (Nov. 25) through Cyber Monday (Nov. 28).
When people shop at participating venues, they'll pick up a Passport to collect stamps for a chance to win a gift basket full of local goods. The more businesses folks shop at, the more raffles they get to enter.
(Shops and boutiques can get a registration form or ask questions by emailing [email protected]. Registration forms must be completed by Nov. 7.)
Other Holiday Season Events & Opportunities
The Litchfield Art Festival Holiday Show is Nov. 12-13, from 10 a.m. to 4 p.m. each day, at Litchfield High School. The show features painting, sculpture, mixed media, drawings and prints, photography, ceramics, glass, fiber art, wood and metal works and much more. See the website for details: https://www.thevoiceofart.org
On Nov. 11, the Ripley Waterfowl Conservancy is offering a fun night out that involves building and painting a wooden birdhouse suitable for backyard use. (A perfect gift with a personal touch for the nature lovers on your list.) Each birdhouse has an entry hole suitable for small birds, as well as a pitched and lapped roof, with ventilation gaps to help nestlings remain cool. A cable is provided to make the birdhouse simple to hang. The cost for non-members is $35, which includes everything needed to build and paint, as well as backyard hints & tips, and light refreshment. (BYOB is permitted. Limited to 12 participants.)
Hope & Honey Boutique, located under @thecorner restaurant on South Street, is offering a Thanksgiving cornucopia making class and tea party Nov. 17 in its new tearoom space. "Enjoy bottomless cups of our favorite Harney and Sons Tea, along with the history of 'the horn of plenty,'" the event invite says. The cost for the evening event is $60 Purchase tickets online and follow the boutique on Instagram for updates.
The Litchfield Community Center is offering jewelry making classes in three sessions, Dec. 6, 13, and 20. During each class, participants will make a piece of jewelry (more perfect holiday gifts). All supplies and materials are included. The cost is $40 for all three classes, and payment is due to the instructor on the first day of class. To learn more about the afternoon classes and pre-register (required), head to the event page.
Stock Up for Holiday Parties and for When Guests Pop Over
Don't forget that the Litchfield Hills Farm-Fresh Market keeps going on Saturdays from 10 a.m. to 1 p.m. at its indoor home, the Litchfield Community Center. It's a great resource for stocking the pantry for holiday gatherings. Follow the Facebook page for updates and information on vendors.
Also explore the Eat & Drink section on the Visit Litchfield CT website to connect with the gourmet shops, bakeries, wine shops, chocolatiers, and other purveyors of all the ingredients for wonderful parties, dinners, and intimate get-togethers.