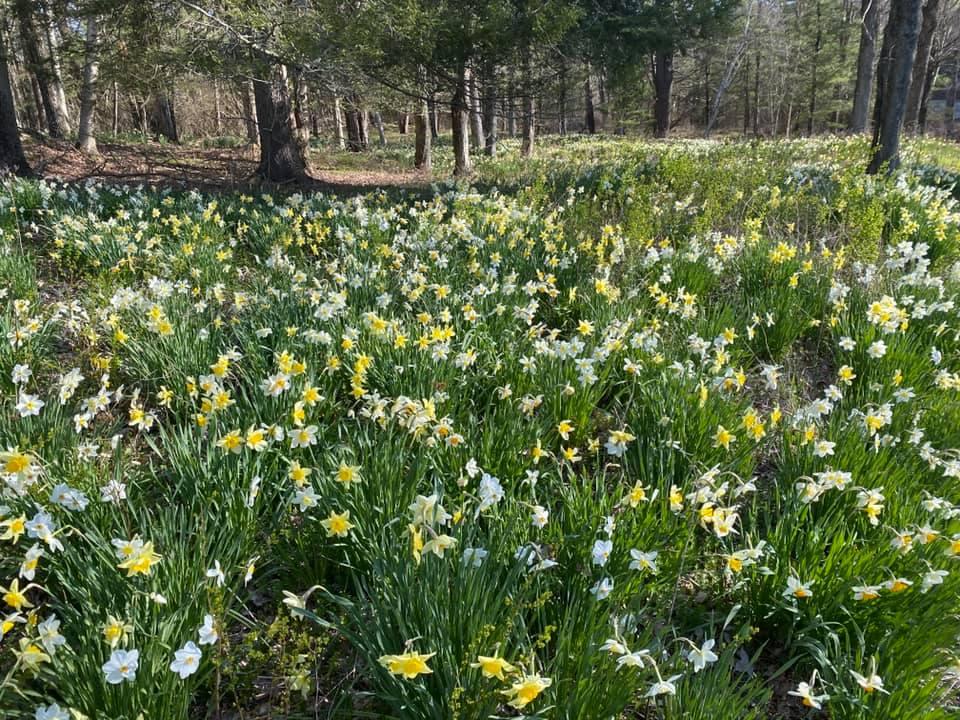 The annual spring display of tens of thousands of daffodils and narcissus at Laurel Ridge along Wigwam Road in the Northfield section of Litchfield is expected to peak a bit earlier this year after the mild winter.
Last spring, the Laurel Ridge Daffodils Facebook page posted "probably peak daffodils today, April 30, 2022," and that peak display extended into early May.
"I think the warmer winter has accelerated where they would normally be at the end of March. I'd guesstimate that they're 1 week to 10 days early; so peak closer to April 24 vs May 5," John Morosani said in an email this week.
His parents, prominent Litchfield residents Remy and Virginia Morosani, first planted 10,000 daffodil bulbs in the early 1940s, and plantings have continued and expanded over the years.
The Morosani family established The Laurel Ridge Foundation to oversee and manage the display that welcomes the public, though visitors are advised to be respectful, follow the rules, and take care to honor protocols for parking along the narrow country road.
"No parking" signs on the east side of the road are meant to ensure there's a clear lane for emergency vehicles to get through.
The fields of daffodils, which draw visitors from across Connecticut and beyond, are spread over 15 acres alongside Wigwam Road, about 1.3 miles south of the intersection with Route 254 and roughly 10 minutes from the center of Litchfield or Thomaston.
The Laurel Ridge daffodils are open throughout April and into May for as long as the blooms linger. Once the blossoms are gone, so is access to the property until the next season.
Visitors are encouraged to wander through the fields of daffodils, but dogs and picnics aren't allowed.
Watch for updates on the progress of the annual display on the Laurel Ridge Facebook page and check this Instagram feed to see photos posted by visitors.