Looks like the second weekend in December will be sweet and festive in Litchfield, with plenty of food, music, and nature to counterbalance all of the holiday shopping. Here are some highlights, including the Litchfield Historical Society's special Holiday Lantern Tour of the historic district Sunday, which is sure to fill up fast.
Pastry Cook Brian Levy at OWL
Thursday, Dec. 8, 7-8 p.m., FREE
Love dessert but seeking "real desserts" sweetened entirely by fruit and other natural, unexpectedly sweet ingredients? Then sign up for a presentation Thursday (12/8) at Oliver Wolcott Library by pastry cook Brian Levy, who's worked at acclaimed restaurants in New York and France, including the Michelin Guide-rated Babbo Ristorante e Enoteca in NYC.
Brian's book will be available for purchase at the free presentation and there will be a few samples of his amazing treats to taste!
Head to the library website to register to attend (https://www.owlibrary.org/adult-events.aspx#anchor_brian), or you can also watch on Zoom. 860-567-8030 for questions.
The McKrell's Live Holiday Concert
Friday, Dec. 9, 7-9 p.m., $20; $10 for ages 12 and younger
Looking for some holiday cheer with a Bluegrass vibe? Make plans to see the The McKrells at the Litchfield Community Center this Friday. Register and get tickets online.
The show of Celtic-infused bluegrass includes traditional and original songs, holiday stories, and more. Singer/songwriter Kevin McKrell leads the band that also features Frank Orsini on fiddle, Scott Hopkins on banjo, Peter Pashoukas on guitar, Arlin Greene on bass and Brian Melick on percussion.
Wildlife in Winter at White Memorial
Saturday, Dec. 10, 10 a.m., FREE
Have you ever noticed that nature just seems quieter in winter? Besides the occasional chirp of a bird or rustle of a squirrel, you're left to wonder, "Where did everybody go?" Come to the Wildlife in Winter program presented by Education Director Carrie Szwed to find out! Whether it's migration, hibernation, or remaining active, animals employ clever strategies to get through harsh winter conditions. Using natural props, games, and a few live animal ambassadors, guests will learn all about CT's wildlife in winter. The program takes place in the Ceder Room at the White Memorial Conservation Cener. See the website to learn more.
Farm-Fresh Market & Gingerbread Houses Contest
Saturday, Dec. 10, 10 a.m. – 1 p.m., FREE
It's two-for-one Saturday at the Litchfield Community Center, where the display of this year's gingerbread houses built by members of the community coincides with the Litchfield Hills Farm-Fresh Market.
In addition to stocking the holiday pantry with great locally-grown produce and much more, visitors can vote for their favorite gingerbread creations in-person or vote later online by registering on the website. Prizes will be awarded.
Joy to the World Holiday Concert 
Sunday, Dec. 11, 3-5 p.m. FREE
Judy Handler and Mark Levesque will present "Joy to the World," a Holiday Music Special, at the Litchfield Community Center, featuring instrumental renditions of traditional and contemporary holiday music for classical guitar and mandolin. The duo will perform a variety of lively tunes and lyrical melodies from many countries, including the U.S., Puerto Rico, England, Wales, Ireland, France, Italy, Spain and Eastern Europe. CDs will be available for purchase after the concert. Guests should register to attend online.
Holiday Lantern Tour of Litchfield's Historic District
Sunday Dec. 11, 5:30 p.m., $15 for members, $20 for non-members
The Litchfield Historical Society's special holiday-themed "lantern" tour of Litchfield's Historic District begins inside the Litchfield History Museum (7 South Street), where guests will enjoy historically-inspired cocktails and treats before grabbing lanterns and heading out to learn about past celebrations and winter pursuits in Litchfield. The tour lasts about an hour and covers about a mile. Participants are encouraged to dress warmly. Space is limited and registration is required. In the event of rain or inclement weather, the program will not be held.
Note: There's another Holiday Lantern Tour scheduled for Thursday, Dec. 15. If snowy weather cancels the Dec. 11 tour, those who signed up can switch to the Thursday tour.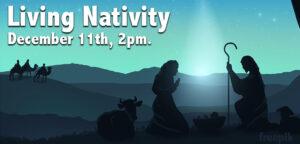 Also don't miss the Living Nativity at The Grotto at the Shrine of Lourdes of Litchfield at 2 p.m. on Sunday, Dec. 11. For more information: 860-567-8434, shrinect.org.