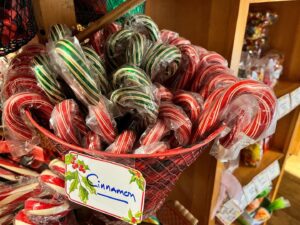 Panicking about last-minute holiday shopping and waking up in the middle of the night with the fear you won't be able to find a "worthy" gift?
Relax. Litchfield has you covered with wonderful shops that are stylish and sophisticated but also warm and welcoming. They offer everything from toys to home décor and accessories, kitchen goods, men's and women's fashions, gourmet provisions, and much more. (See our Shopping page to connect.)
Within the local shopping universe, there are a few holiday options with "hidden gem" status. Seek them out to solve last-minute gift challenges, especially for families with children.
White Memorial Conservation Center Gift Shop
The White Memorial gift shop greets visitors to the nature museum at the main White Memorial Conservation Center property off Route 202 and Bissell Road. It's tucked away, so to find the shop you have to be visiting the museum or seeking it out.
Open year-round, the gift shop is most robustly stocked during the holidays with special things to delight nature lovers of all ages. For example, displayed around the small shop this year are lots of handmade wooden bowls and vessels crafted by local master woodturner Richard Heys from the wood of trees that have fallen at White Memorial.
His creations are exquisite in their sculptural simplicity and also functional, and Heys is featured in the December issue of Connecticut Magazine. The story is displayed with one of the groupings of his work.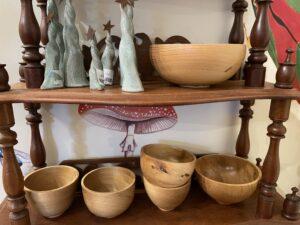 In addition to ornaments, holiday cards, local maple syrup, and White Memorial T-shirts, caps, and sweatshirts, you'll find stickers, water bottles, miniature watercolor paintings, books for adults and children, toys for children, plush animals, one-of-a-kind artwork, and lots of stocking stuffers.
The shop is today through Friday from 9 a.m. to 5 p.m., and from 9 a.m. to 1 p.m. on Christmas Eve. (General hours are Tues.-Sat., 9-5 and Sun., noon-5) For inquiries, call the shop at 860-567-0857. There's also a new online store!
The White Memorial gift shop is of several great hometown options for families with children. Here's the quick scoop on three other local gems where making children happy is the heart of the mission.
The Silly Sprout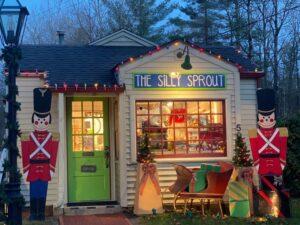 Formerly located on West Street in Litchfield center, The Silly Sprout now calls a tiny building across from the entrance to White Memorial home. Here you'll find a charming old-fashioned toy store. A new batch of Bruder trucks just came in, for example, and there are sleds for toddlers, dolls, dinosaurs, games, books, clothing, and a wide range of other gifts and toys.
Open 9 a.m. – 5 p.m. (but call for Christmas Eve hours).
503 Bantam Road | 860-361-9500
Little-ish
The shop Little-ish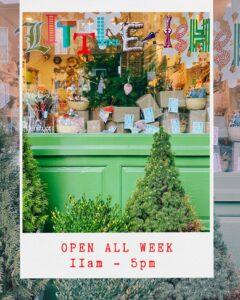 also has "hidden gem" status, if only for its location tucked away in Cobble Court behind the shops at the top of West Street across from the Green. Another hotspot for families with children, the shop offers everything from ornaments and stocking stuffers to planes, trains & automobiles, books, retro toys, musical instruments, dolls, games and puzzles, clothing and jewelry, and much more.
It's open from 11 a.m. to 5 p.m. and 11-3 on Christmas Eve.
8 Cobble Court | 860-361-6272
Litchfield Candy Company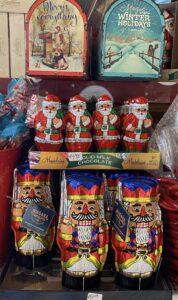 What other town has two hometown toy/children's shops AND a hometown candy store?
The Litchfield Candy Company is small but sweet and very well-stocked with holiday goodies like chocolate Santas and Nutcrackers, boxed candy, truffles, fudge, and much more. Even better, the "10 Days of Deals for Christmas" sales continue through Friday. Today (12/21) all boxed candy is 10 percent off, Thursday that discount apples to Hot Cocoa Bombs and Hot Chocolate, and Friday any Santas or snowmen that remain are 10 percent off.
Open 10 a.m. to 6 p.m., and until 7 on Friday.
245 West St. | 860-567-1500
Prime Finds for the Holidays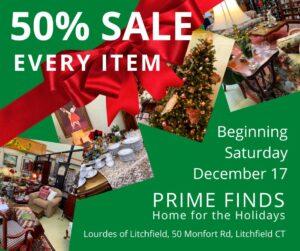 This one isn't necessarily for families with children, but Prime Finds Home for the Holidays is a "hidden gem" holiday shop with lots of treasures at great prices, including furniture, china, holiday décor, antiques, artwork, kitchen and glassware, and more. All purchases support the programs at Prime Time House, which supports those in Litchfield County who are on their pathway to mental wellness.
The shop, located at Lourdes of Litchfield, is open Tuesday – Sunday, 10 a.m. to 4 p.m., and from 10 a.m. to 1 p.m. on Christmas Eve. Best part: Everything is now 50 percent off.
50 Montfort Rd. | 860-618-2479
We were in a mall and brand name big-box stores recently and it was insane. Skip all of that madness and come to Litchfield for wonderful gifts, concierge-style service, and the hometown holidays glow—part of which comes from taking advantage of all the local scratch bakeries and coffee shops, gourmet shops, and top-notch dining options.